THE CHALLENGE
Although the Gig Economy is growing fast as a major economic trend, the problems faced by this workforce are many.
A research study conducted across 100 freelancers unearthed the pain point that they do not like paying for software tools they don't use regularly.
Already burdened with the expenses of having to pay for rent, food and other expenses, paying for software tools weighs heavily on top of them all, causing them to stick to free versions and find versions (by creating multiple IDs etc.) 
The big question we asked was :

Why are software tools placing a burden on freelancers and how could we help them?
THE SOLUTION
Glide is a
single sign-on based subscription management service that lets freelancers use SaaS as short-term subscriptions (Daily/Weekly/Bi-weekly) instead of the standard monthly ones
. This helps them save monthly software costs which can be redirected elsewhere. For companies, Glide provides a way of catering to the newly rising workforce and convert users of free versions to paid subscribers.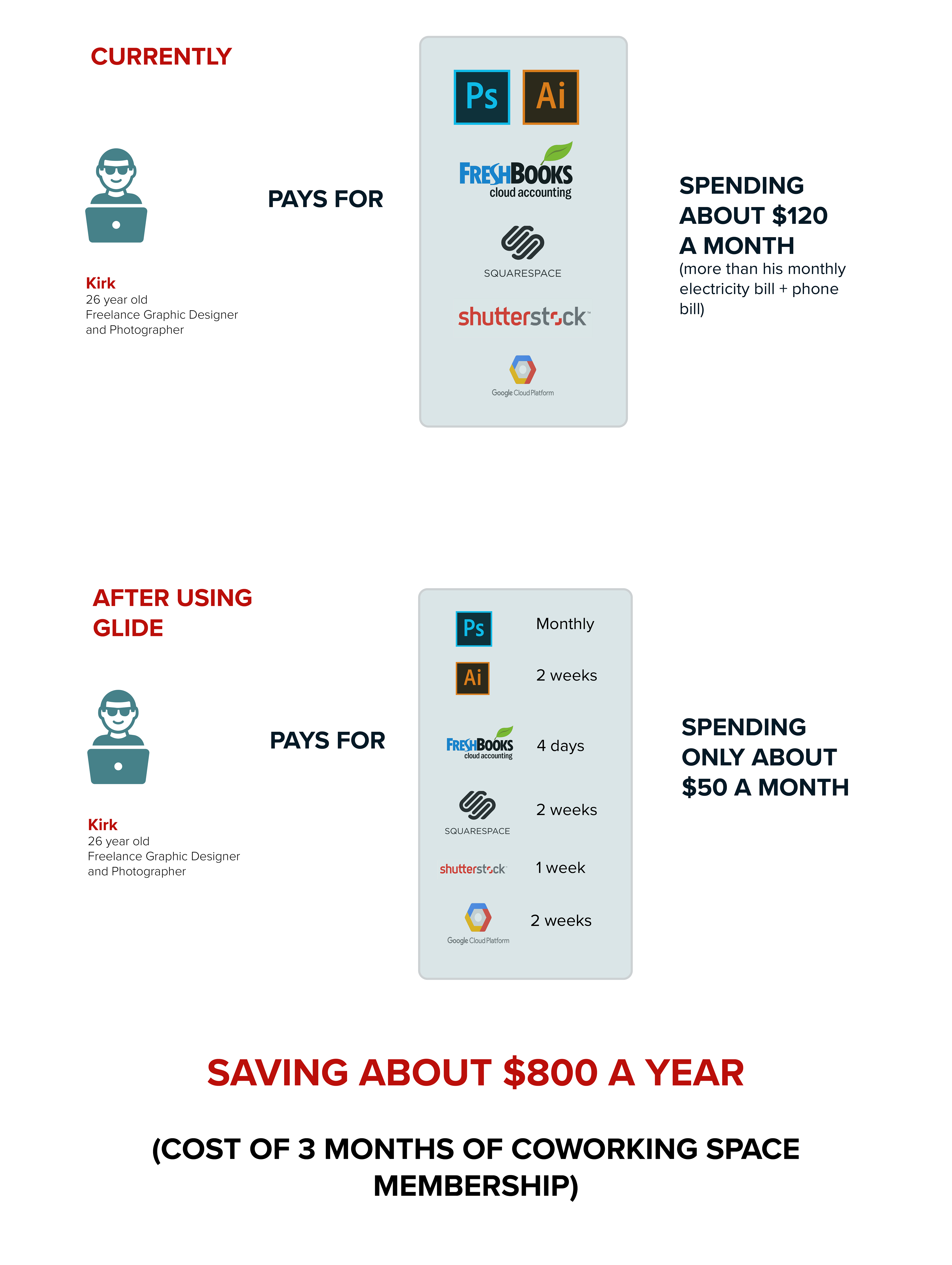 ​​​​​​​
PROJECT DETAILS
CLIENT BRIEF
       :   Find innovative business opportunities and design solutions in the gig economy space
​​​​​​​
TIMELINE               
 :  16 Weeks ( Feb 2018 - May 2018 )
OUTCOMES 
         :  Solution prototype, Business Model,
Project Report
, Pitch Deck
TEAM 
                    :  Four students from the Strategic Design and Management program at Parsons - Aryanna Martin,                                                      John Yohan John, Mehul Sharma and Sundar Subramanian (myself)
MY ROLE             
  :  I was involved in all the different aspects of the project, right from research to synthesis,                                                                   prototyping, testing and creating the business model. The tasks that I spent most time on were related to                                       research, insight synthesis, financial modelling and project management (including client engagement).
WEB PROTOTYPE
Our final web prototype was created with Marvel and takes you through the solution in a very simple way. Our initial prototype was an app, but once we pivoted to a single sign-on based website which we felt more sense for a freelancer working from his/her laptop.
BUSINESS MODEL CANVAS
The Business Model canvas helped us structure our solution to a viable model than can be implemented in the market.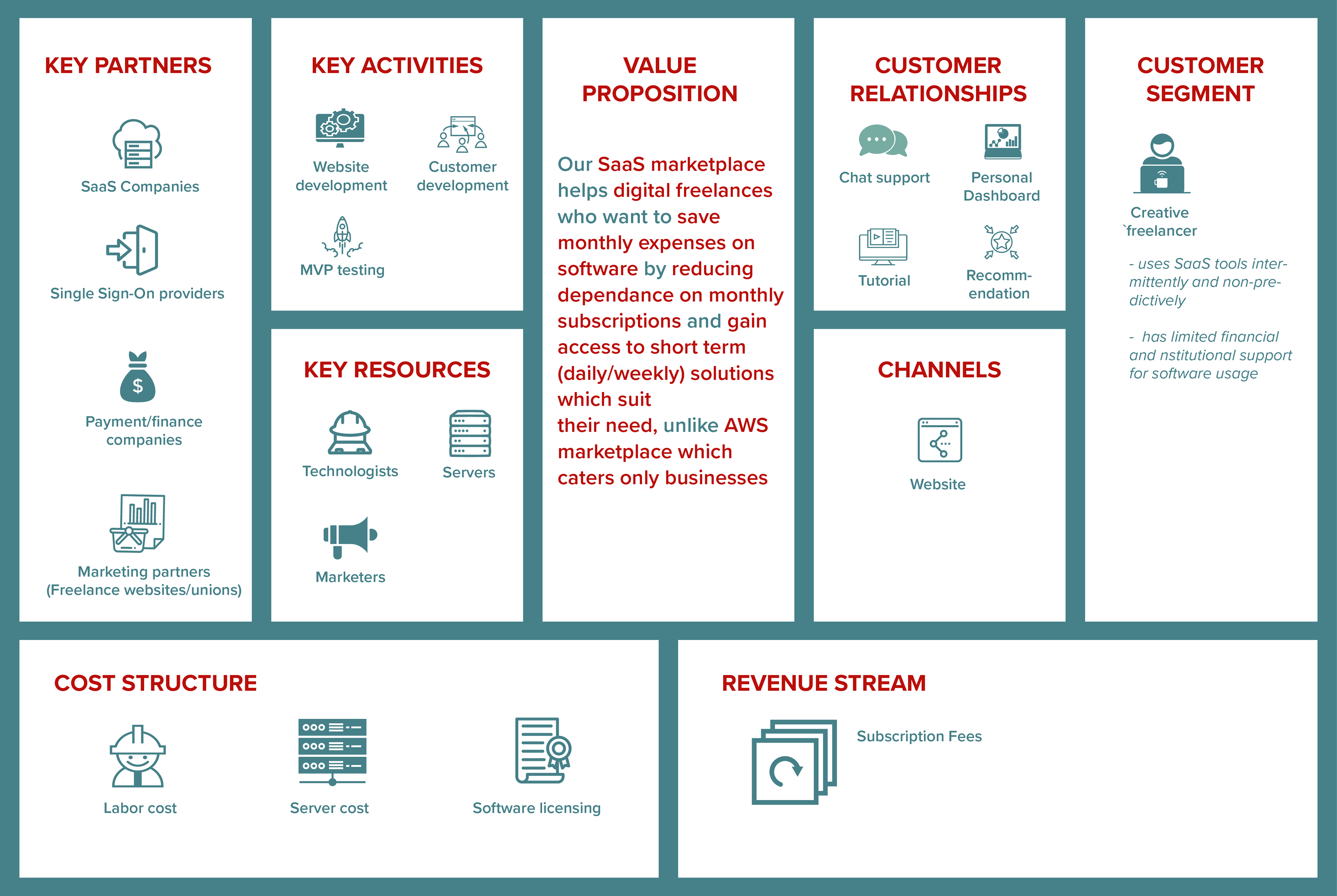 We used the
platform design toolkit
(created by Simone Cicero) to envision how the platform would work, who would be the peer producers/consumers and who would be partners in the platform.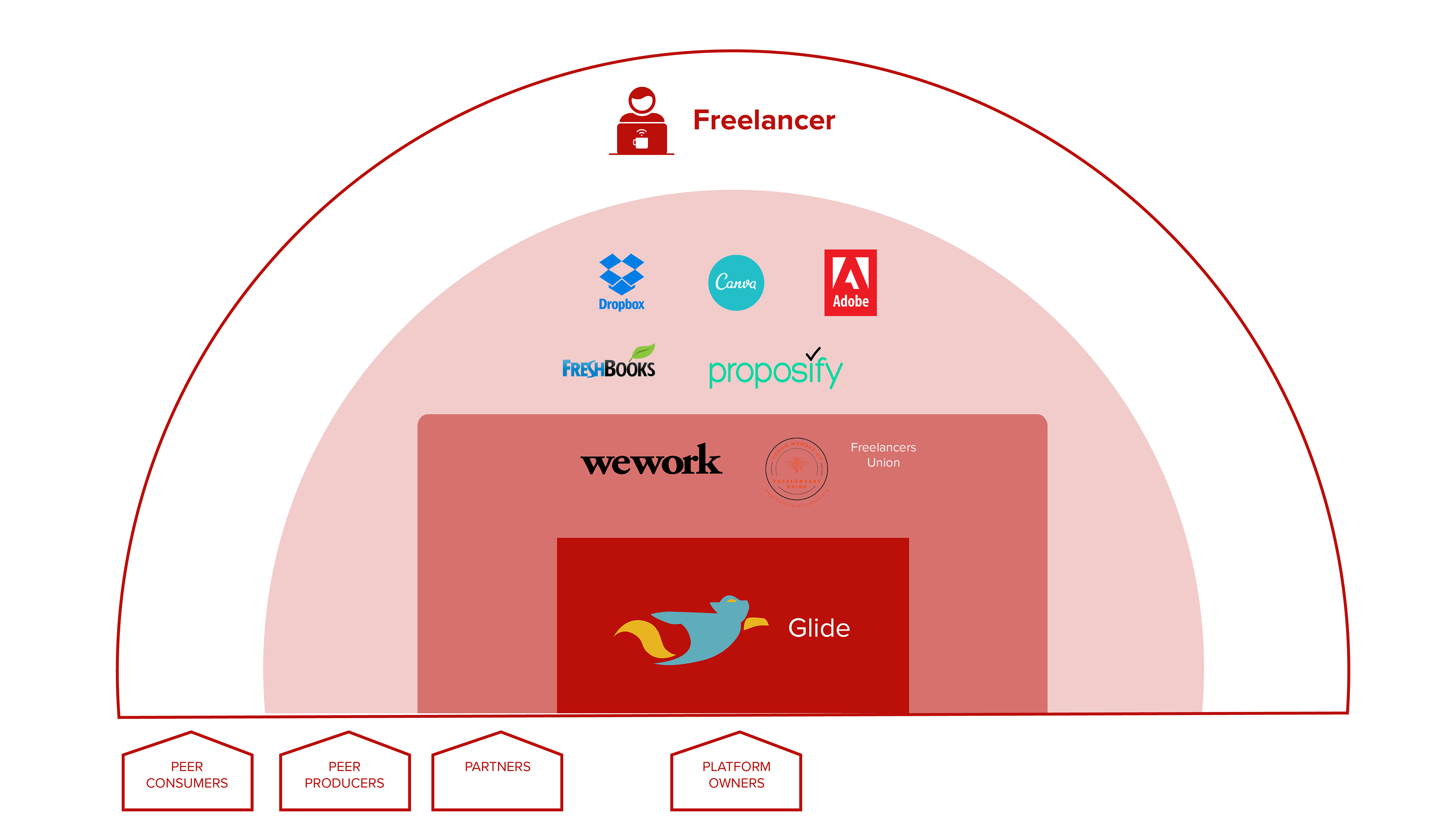 Although there are existing services which solve for software aggregation, comparison, discounts, subscription management and usage based subscriptions, Glide is the only service which integrates all of the above while also catering to the B2C segment. This differentiation would help us stand out in this market.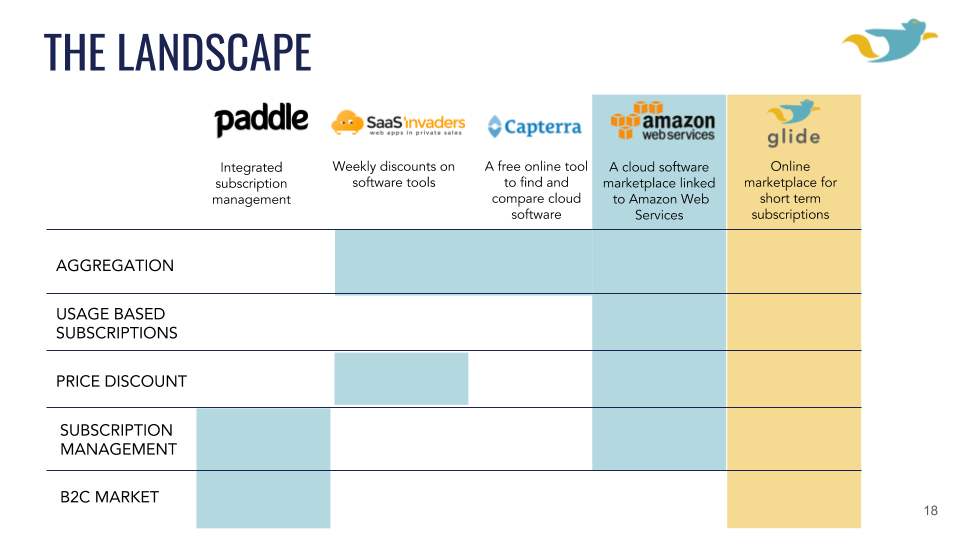 LEAN + AGILE + DESIGN THINKING
Since our final deliverable was not just a design concept/prototype but a validated business model,
we decided to combine the approaches of lean startup, agile and design thinking to iteratively test concepts and business models,
and make refinements that would substantiate the value proposition in terms of its desirability, feasibility and viability.
The gig economy has seen a massive growth over the last decade and is now a major contributor to the US Workforce. To understand this trend better, we went through research papers, news articles and other literature on the subject. Here are some of the interesting insights and facts we unearthed through secondary research.
In order to unearth the most pressing problems, it was important for us to understand the point of view of multiple stakeholders in the Freelance universe. We used the method of
Ecosystem Mapping
to analyze the various interactions and inter-relations that form the bedrock of this complex system.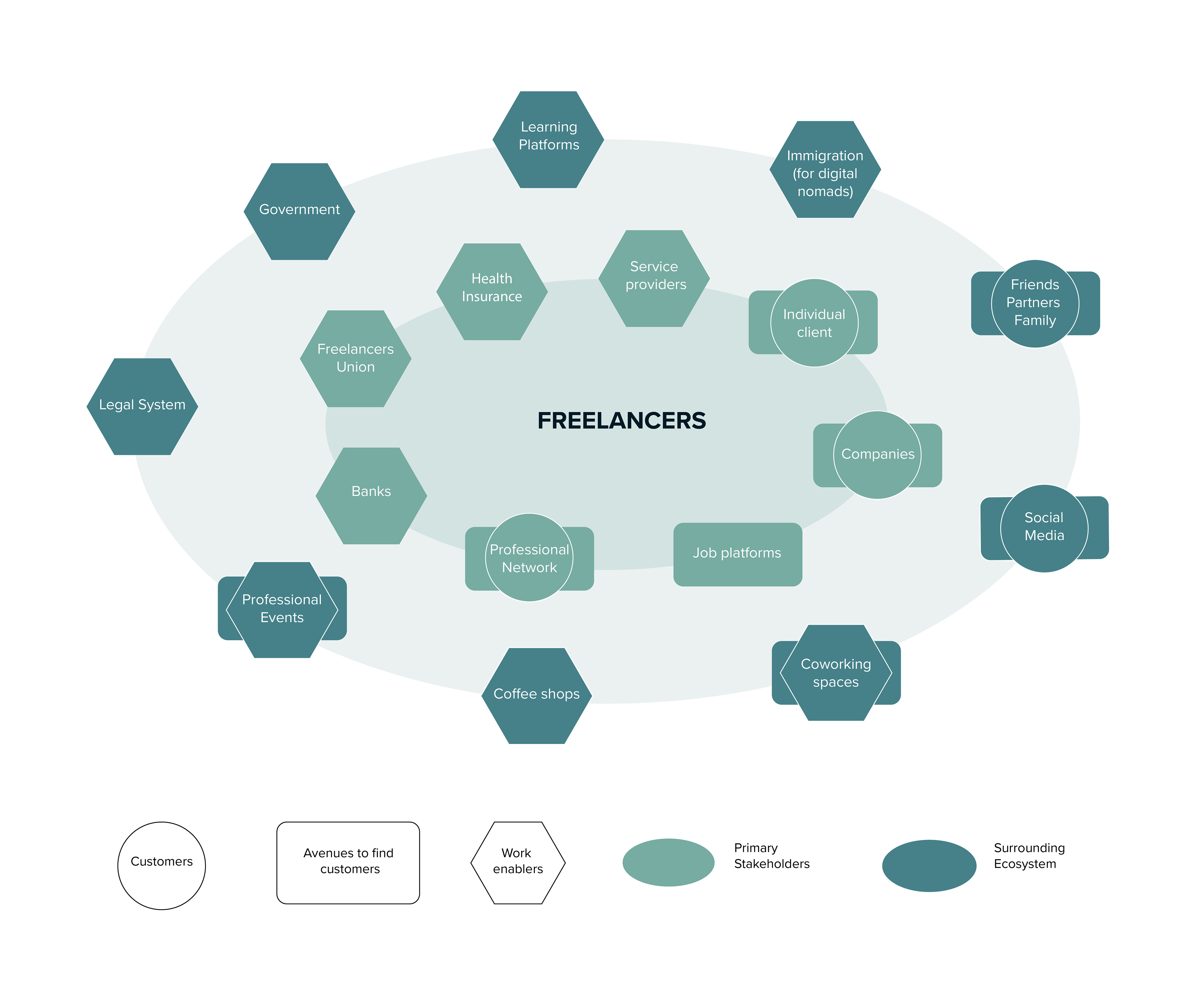 Understanding the systemic perspective helped us frame our primary research, which we accomplished through 2 key research methodologies - interviews and surveys. We had a diverse mix of participants, with a 60:40 gender ratio, an age distribution from 18-54 and 5 different nationalities.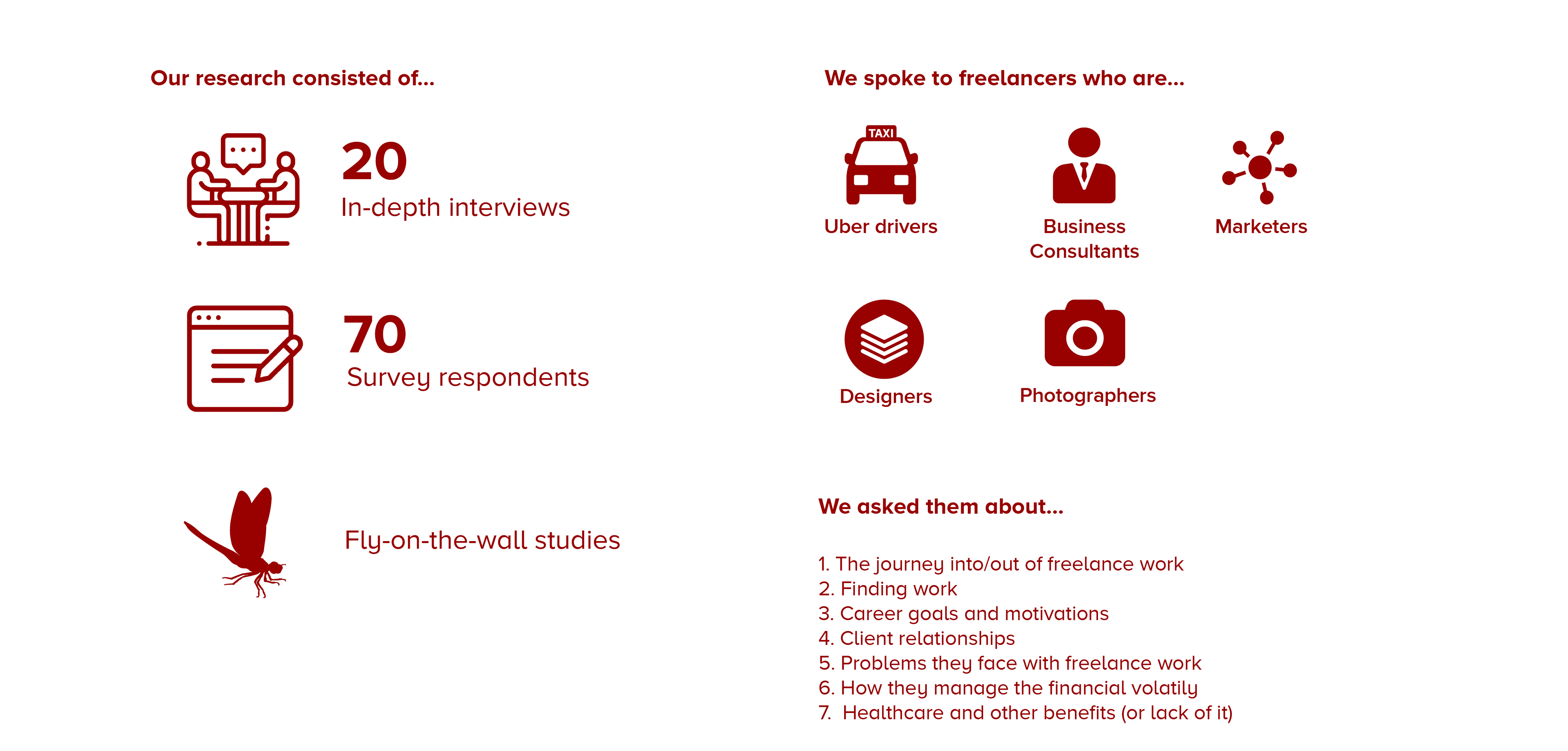 We followed the research with the synthesis process, creating personas, journey maps and analyzing the findings from research to unearth actionable insights.
6 Major insights were uncovered from the interviews, pertaining to different phases of the work cycle 
DECIDING WHAT PROBLEM TO BE SOLVED FOR?
In order to arrive at the most critical problem to be solved for, we took a stab at using methods of open brainstorming to rethink and re-frame our insights. 
We conducted a role-play workshop with 7 freelancers from various industries to help us solidify and prioritize our Insights and finally arrive at How Might We statements
.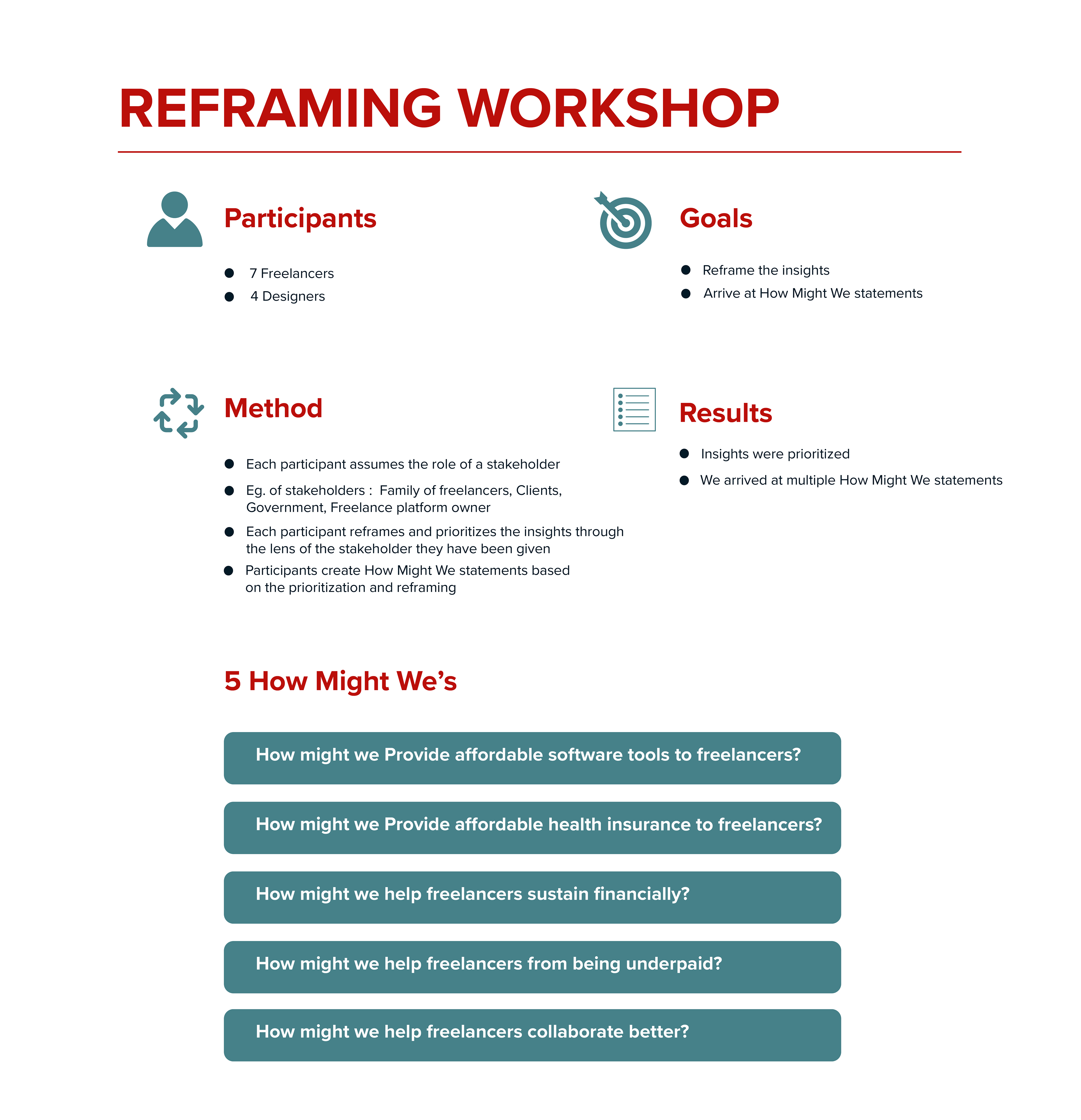 Glimpses from the workshop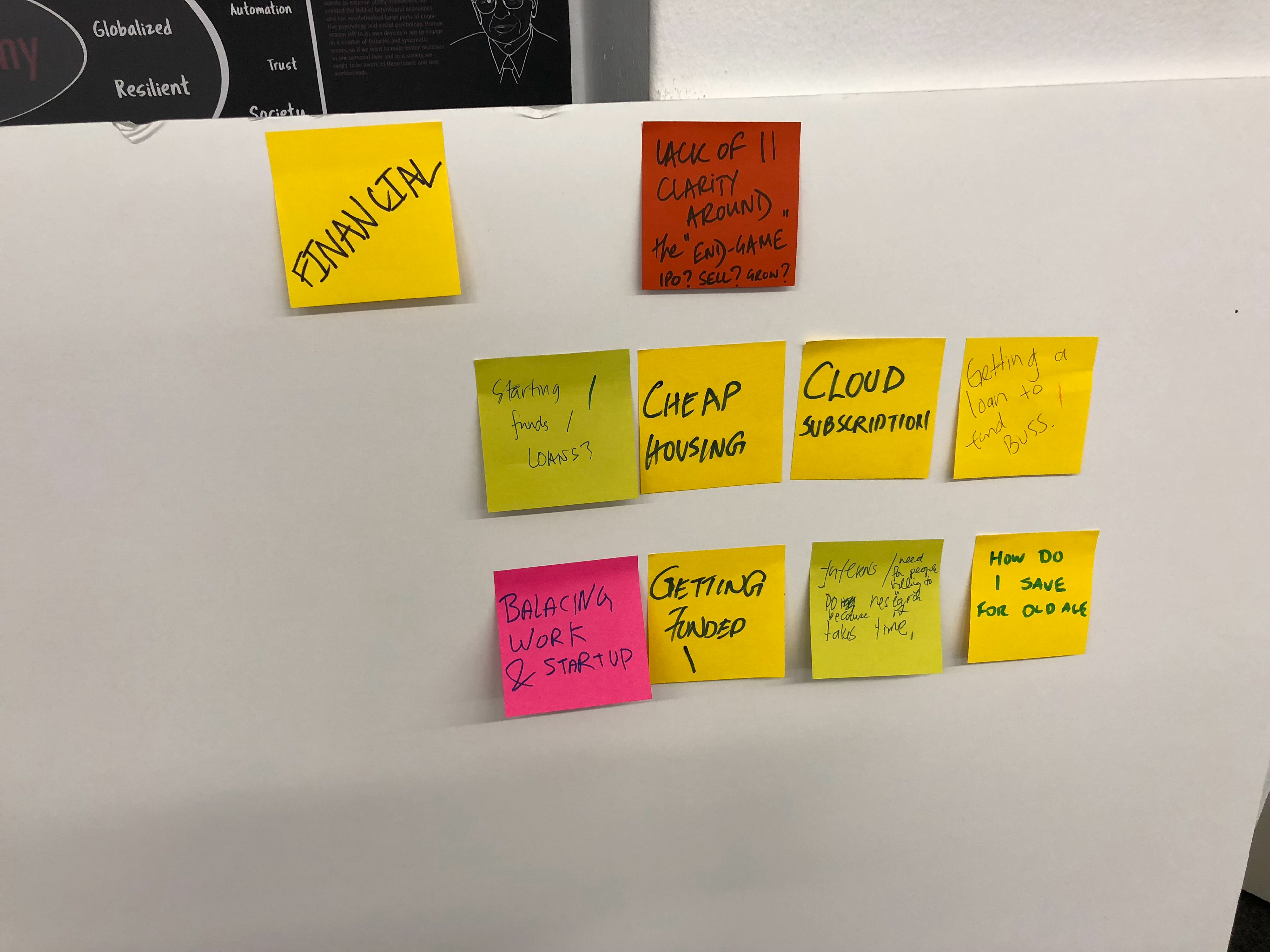 Me concluding the session with some of the key findings and next steps
IDENTIFYING POTENTIAL SOLUTIONS
The next step for us was to identify potential solutions for the How Might We's generated. We conducted multiple brainstorming sessions, within and outside the team to figure out what are the possible ideas that we could generate in order to solve some of the pain points identified. We conducted a brainstorming session with clients and our fellow classmates and
categorized the potential solutions across two dimensions, one of customer value and the other for how innovative the idea is
.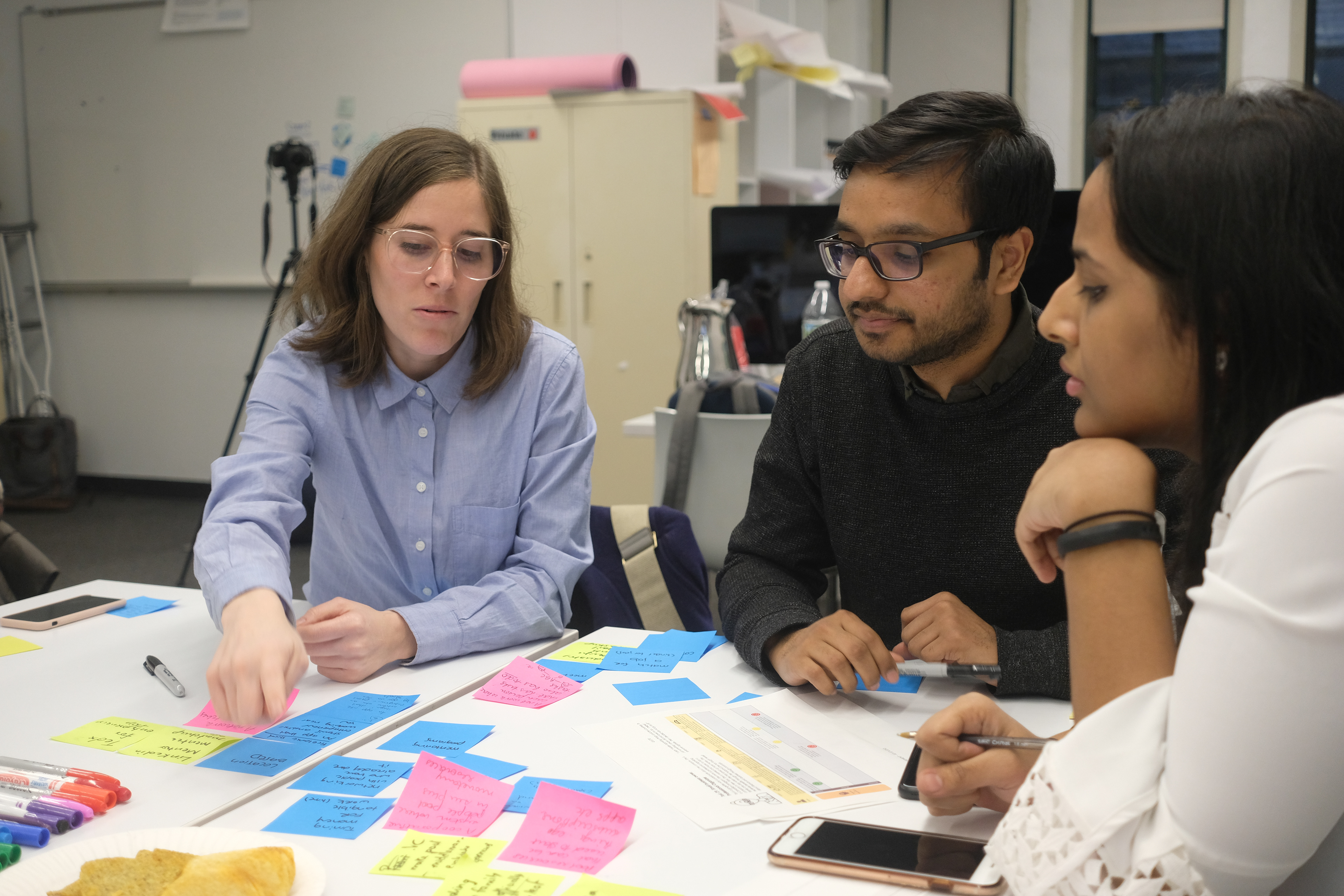 After the brainstorming workshop and mapping out the insights on a 2x2 matrix we noticed a pattern of ideas which really interested us, around
helping freelancers have cheaper access to the tools and services they need.
After deciding on the potential solution, we went back to our primary research to identify the persona that was the right fit to design for. That's when we discovered our key user persona - Wilma.
Wilma is a recent graduate/postgraduate student, getting her feet wet in the freelance world. Living in a big city such as New York, her rent and other living expenses are high and she is unable to bear the additional burden of having to pay a high amount every month for software services to get her work done.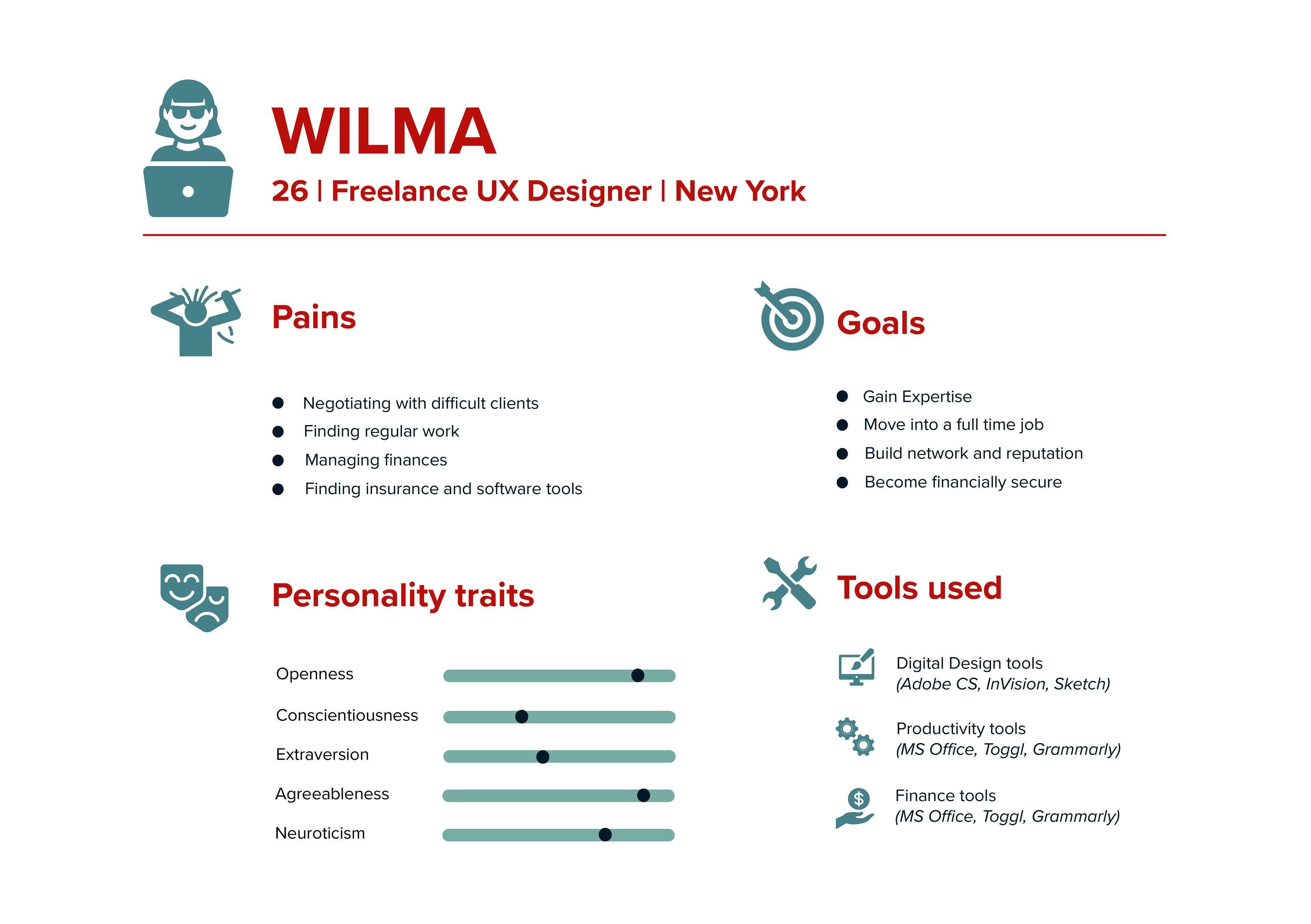 From the
Journey map
we created for Wilma, we also learned that the most distressing phase for her was when she had to manage her finances while working and especially having to pay for the various tools and software she had to use in order to get her work done.
Having arrived at a single pain point to be solved for,
we went ahead to generate concepts which can address it
, and came up with 3 ideas:
1. Group buying for software subscriptions
(similar to Groupon/Kickstarter)
2. Friends plan for software subscriptions
(similar to a mobile plan that is shared between friends/family)
3. Pay per use model for subscriptions
(pay for software only as per your usage, such as the electricity bill)
We started with simple paper prototypes, moving on to low fidelity wireframes later.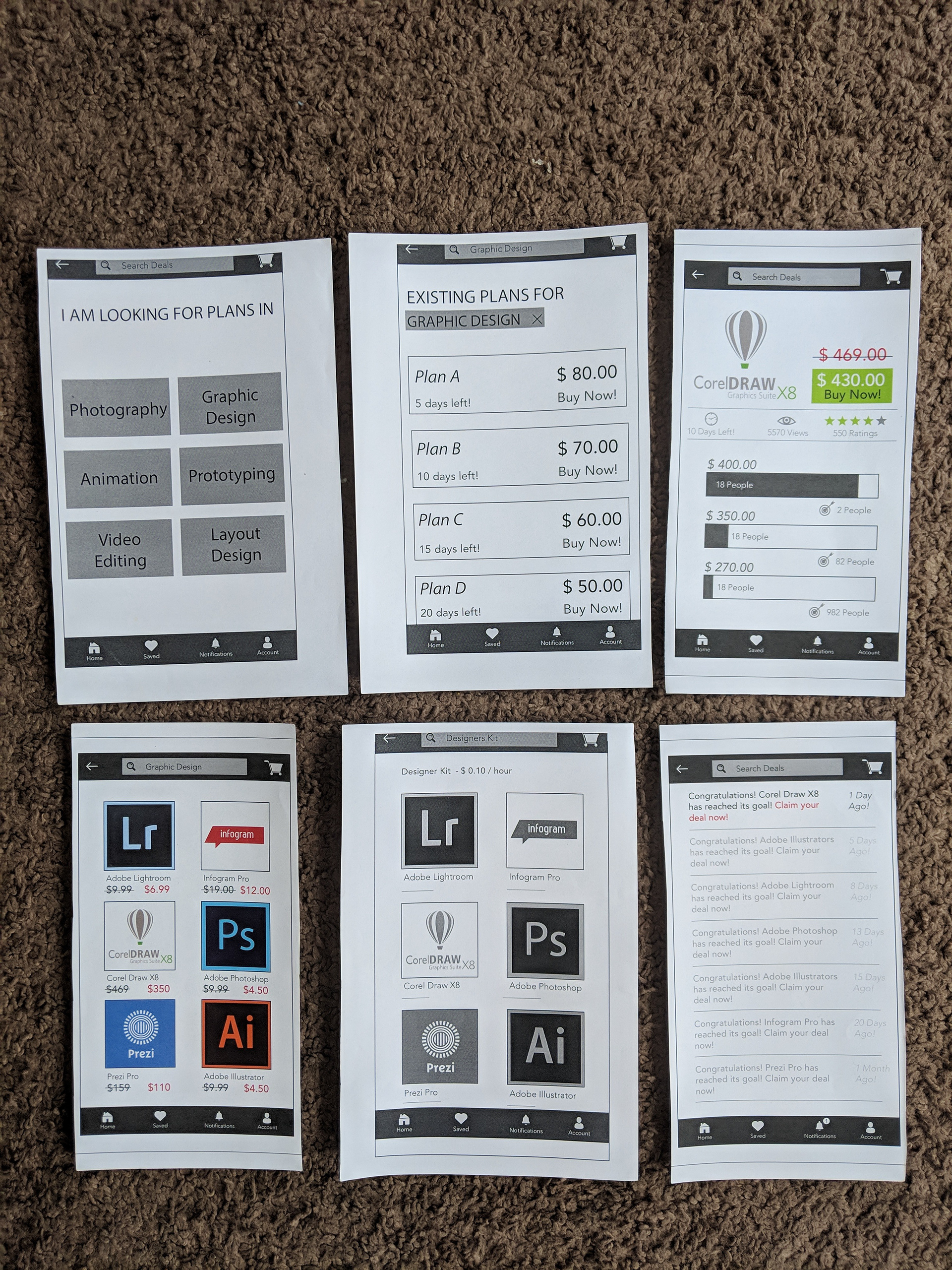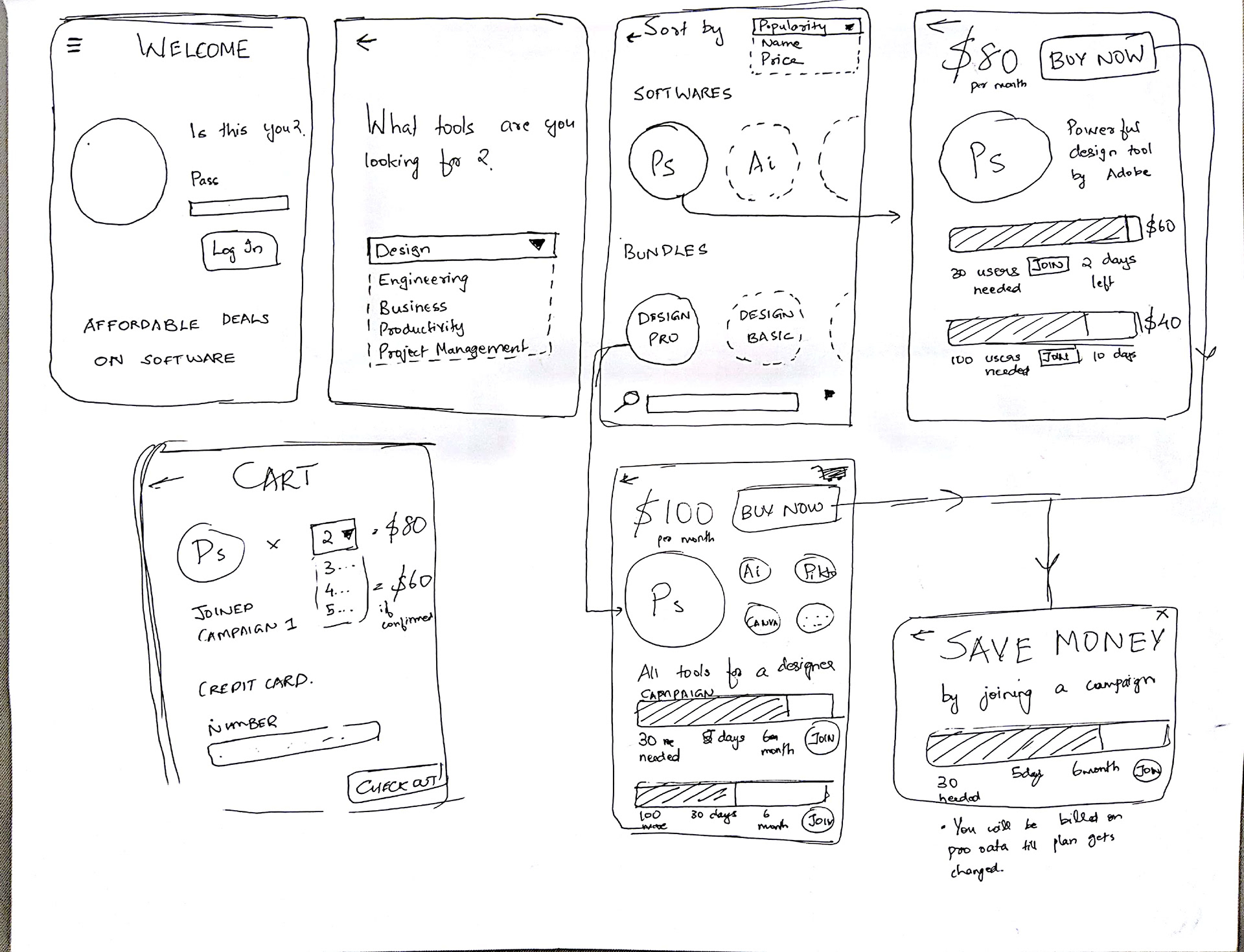 After a quick and dirty feedback session,
we developed 3 wireframes in Adobe XD to further test it with potential users
1.  
FLEX DEALS - Find and join group software deals 
(see prototype below)
2. FLEX FRIENDS - Add friends to your group plan
(click on link to see prototype) 
3. FLEX PAY - Pay per use software plans
(click on link to see prototype)
REFINING AND TESTING THE PROTOTYPES
In order to find the concept that resonated the most with the users and the one that users perceived most value from, we used multiple methods including workshops, surveys and intercepts to validate the concepts.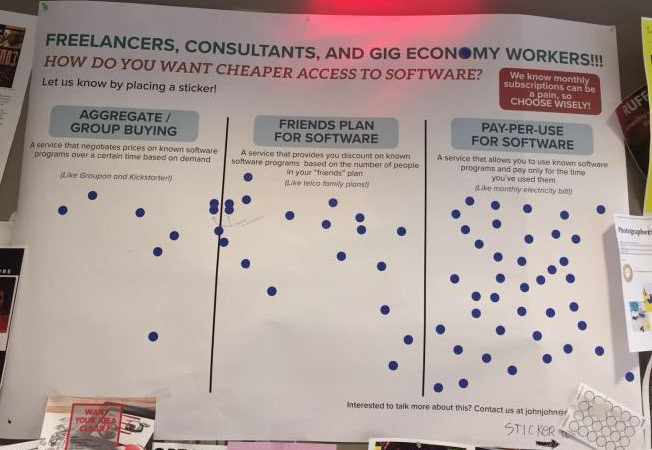 ARRIVING AT THE FINAL CONCEPT
Iteratively testing our 3 concepts through workshops, surveys and intercepts helped us arrive at the
idea which had most potential and was most desired, which was the PAY PER USE for software idea.
Testing also helped us learn more about why the other concepts would / would not work.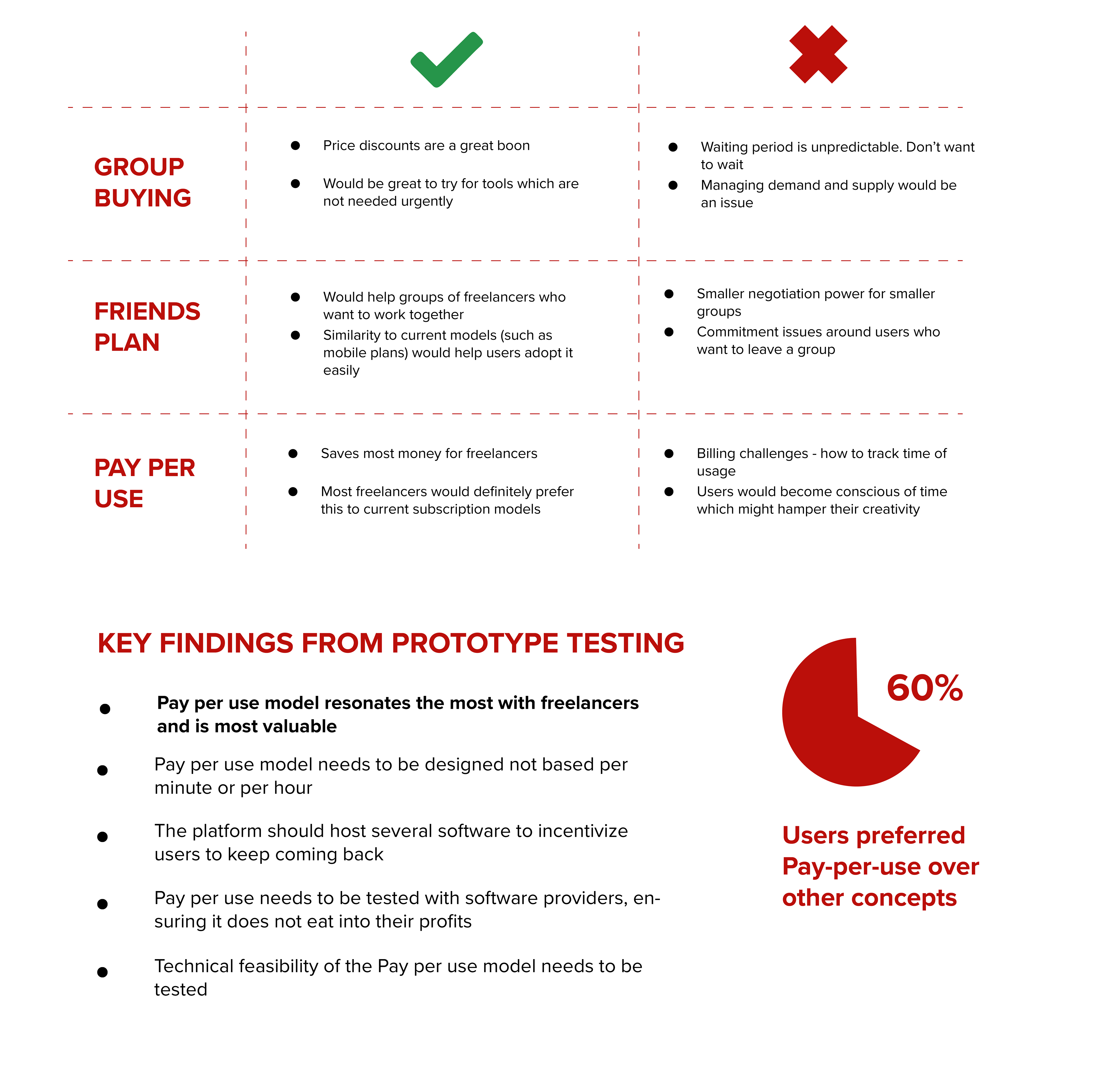 BUILDING THE FINAL CONCEPT - GLIDE
After incorporating from the learnings that we had in the prototype testing phase, we decided to tweak the final concept of the Pay-per-use model and create Glide - which is
a software platform for short-term subscriptions, where users can explore and buy multiple subscription services and manage them
, all on an integrated platform that uses single-sign-on technology to monitor usage and help companies identify the most popular subscription models that users prefer for their software, while also serving as a launchpad for them to launch new products.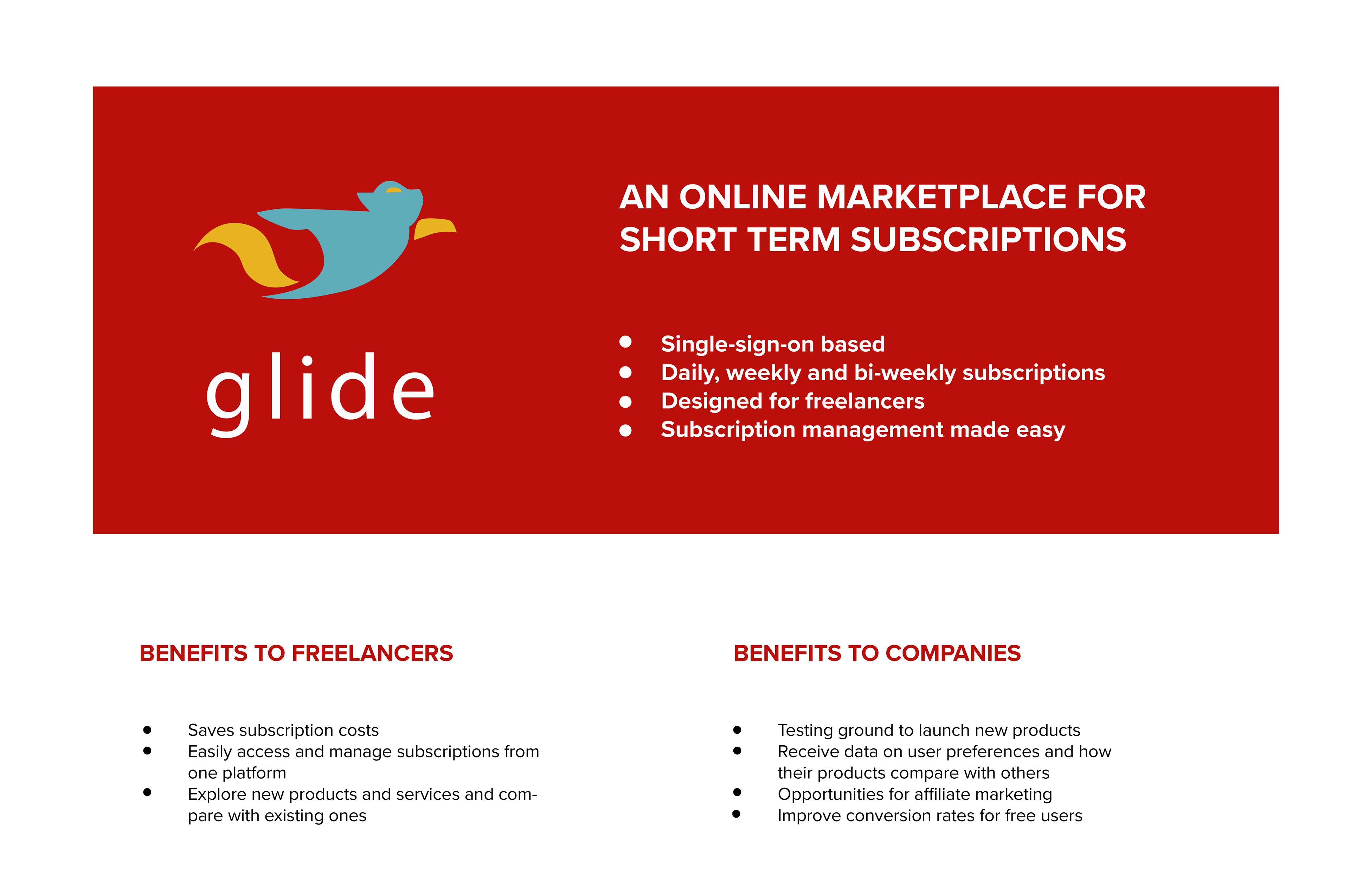 GLIDE INTEGRATES THE FEATURES OF POPULAR SUBSCRIPTION MANAGEMENT PLATFORMS, PRODUCT COMPARISON WEBSITES AND ONLINE MARKETPLACES FOR BUYING SUBSCRIPTIONS, AND PACKAGES THEM TOGETHER IN A WAY THAT BEST SERVES OUR TARGET SEGMENT - THE  FREELANCERS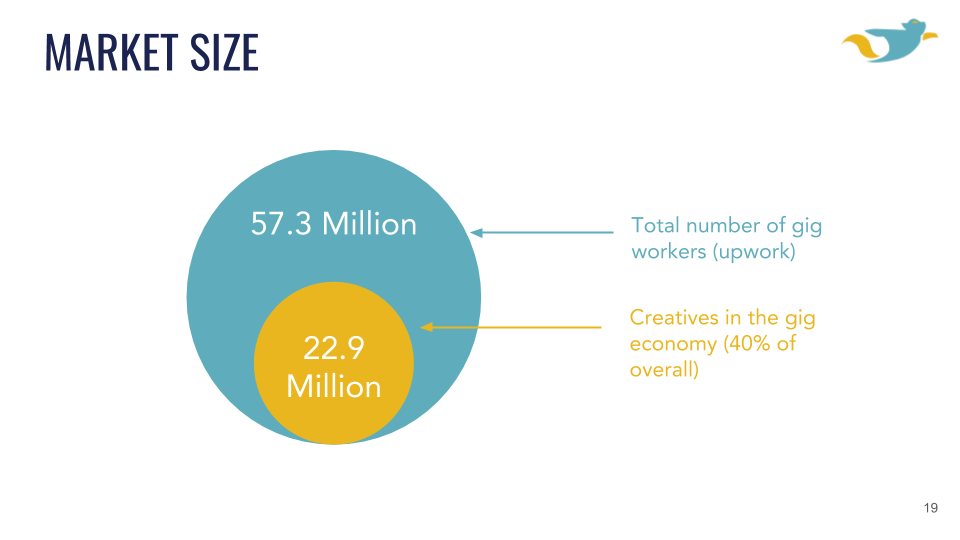 Creating a user flow helped us map the different features that we want to incorporate along with a logical flow, while also generating the overall User Experience that we want to create in the service. Click on the image to see the full map in Lucidchart.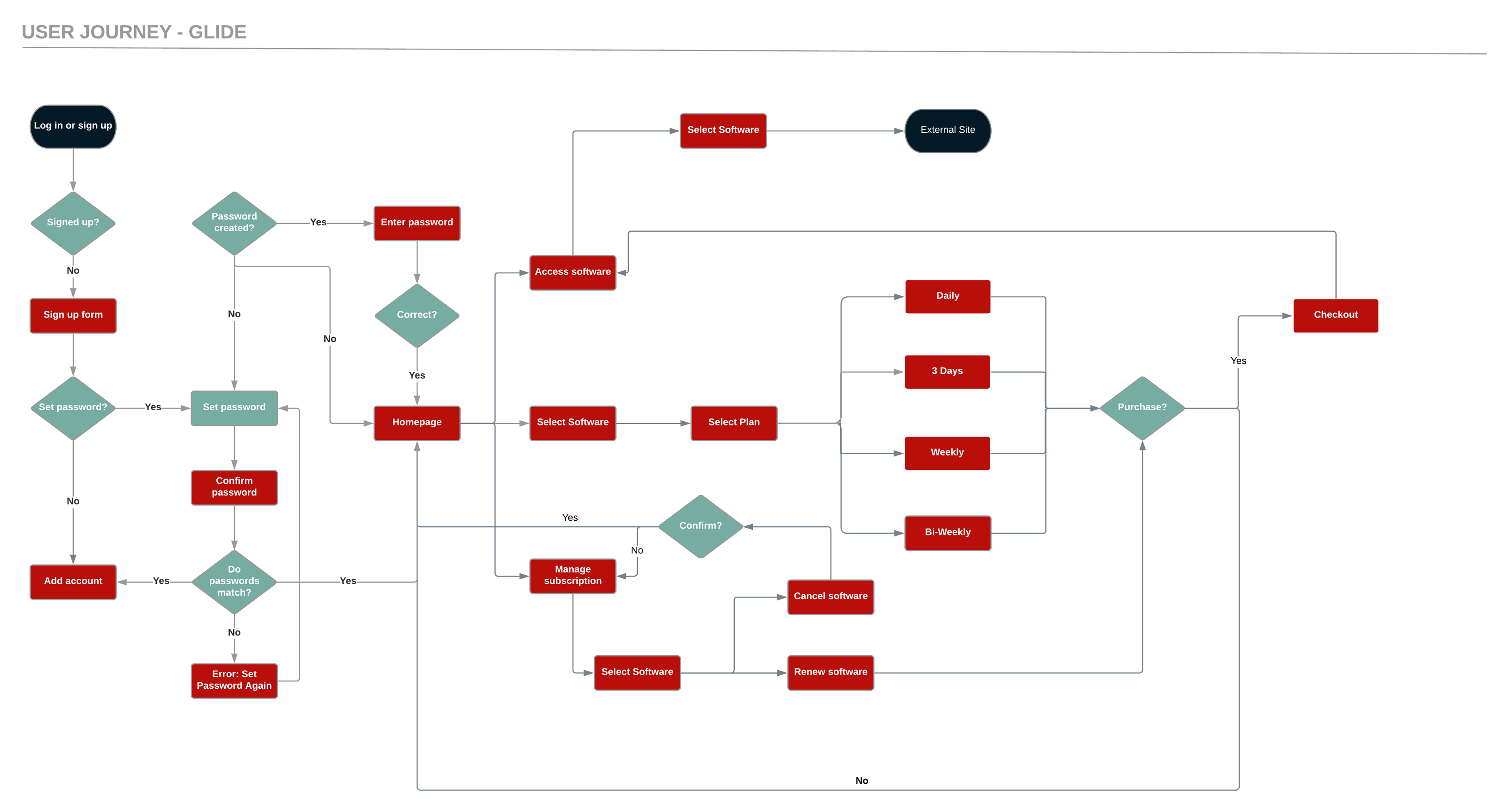 SERVICE BLUEPRINT
The
SERVICE BLUEPRINT
helped us create a comprehensive view of the operational aspects of the service, both from the perspective of the customer and those who will be building the service. This tool also helped identify what are the key capabilities and technology that would be needed to fulfill and excite the customer at each stage of the journey.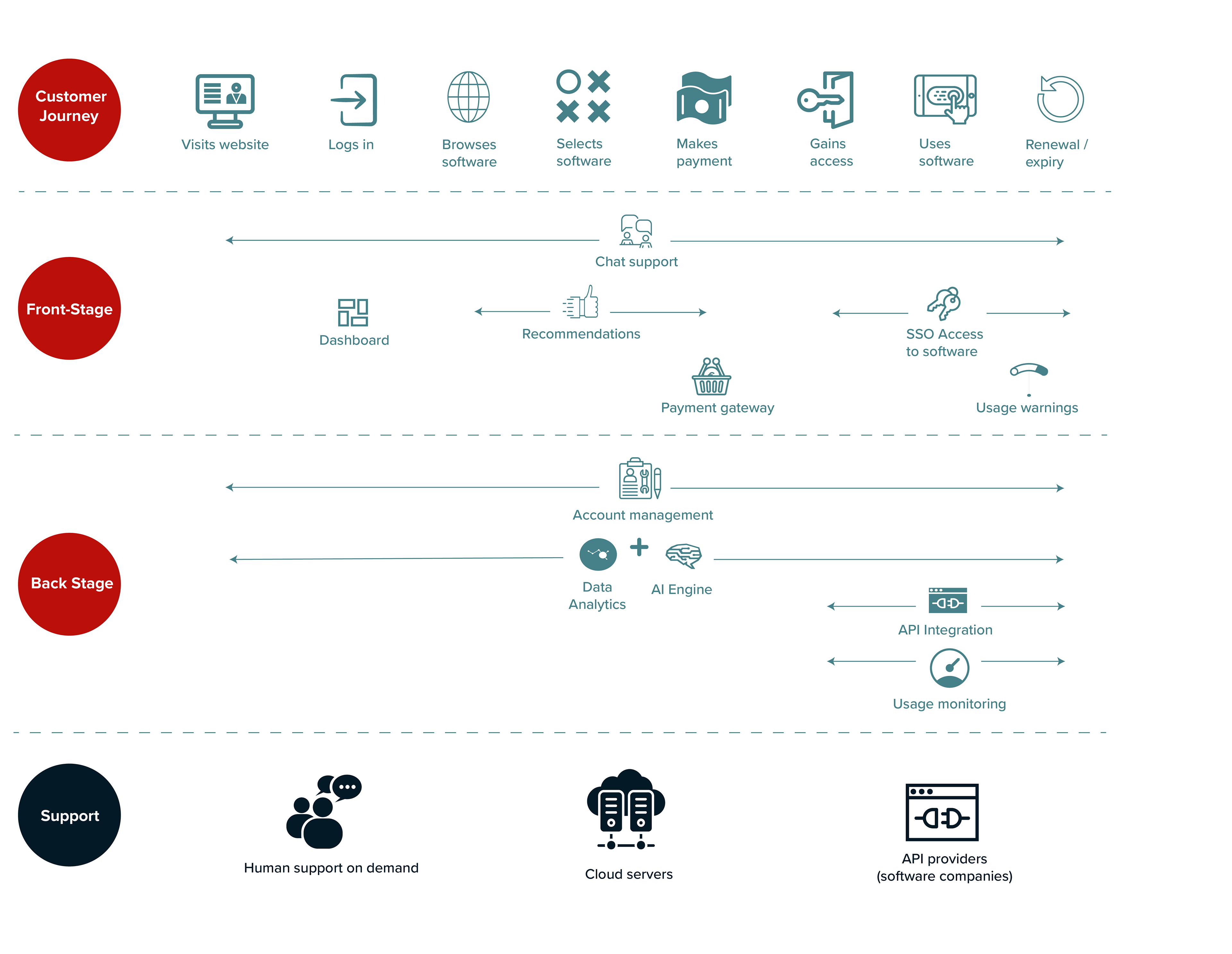 According to our financial projections, Glide would break-even by month 24 and would make $800 K in profits in it's second year of operations, owing to the viral growth once the platform takes off. Click on the images below to see the full financial projections sheet.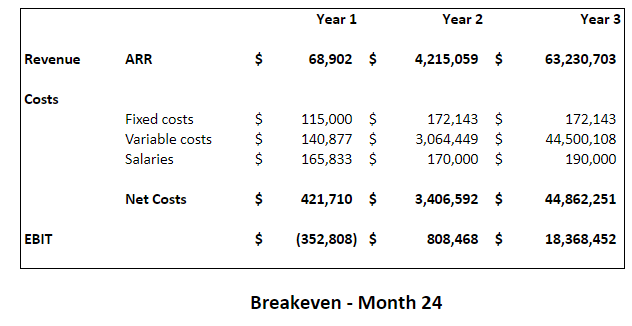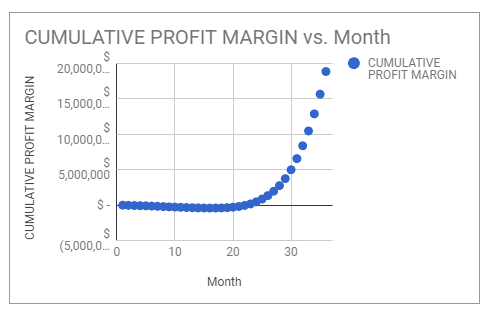 We decided to target the creative freelance community of New York City as our launch users, due to access, high pain point and their willingness to try new services.

Our future strategy is aimed at making software services as flexible and ubiquitous as running water. In a highly interconnected world of AI and the Internet of Things, Glide will be only service that you would need for access to all the other services that are out there, through an AI powered tool that recognizes your need and delivers them on demand.
With the expected rise in the number of independent workers, more users will turn to using glide than to individually access the different software. And the data we would be collecting from them will help us build our own proprietary software which run solely on micro-subscriptions, and which eventually ties in to the AI powered tool which would be the new way to access multiple services through a single platform.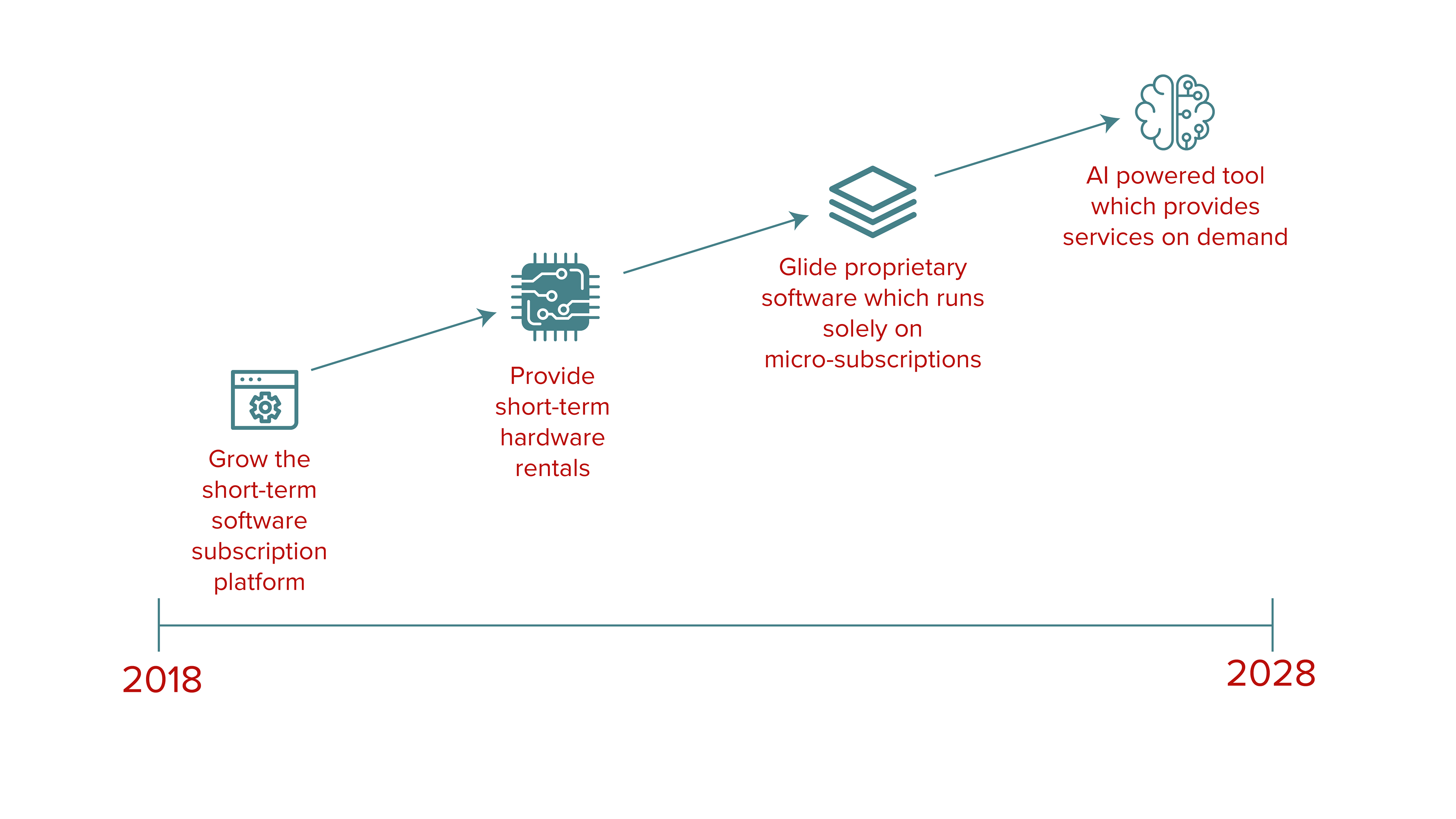 FEEDBACK FROM THE INDUSTRY
Both our clients and other stakeholders from the SaaS industry that we reached out to had a lot of positive things to say about glide, and some of them are here below.
​​​​​​​
"It's a great idea. I would totally use this instead of having to pay for all the software separately" 
 - Valla Vakili , Head of Ventures Studio at Citi Ventures
"If the freelance market grows, we might have to re look our strategy. This might be the way ahead for us in the future" 
- Senior Adoption Program Manager for one of the three biggest SaaS companies in the world
"I see a lot of potential in aggregation. Companies would be interested in knowing or comparing their products with others through this platform" 
 - Former CTO of a leading Design SaaS firm
"Our conversion rates are pretty low. This could improve our conversion rates"
- Customer Success Manager for a web-based infographic application