Our client, Citi Ventures, is pioneering the use of Lean Startup and Design Thinking methodologies to explore, innovate and incubate new ventures that drive economic vitality for people and communities. 
In collaboration with the Strategic Design and Management program at Parsons School of Design, they wanted us to uncover new opportunities to support the economic and social well-being of freelancers/independent workers, who are a fast-growing segment of the workforce. 
In a span of 16 weeks, we started with a blank slate and followed an agile, sprint-based design process to uncover opportunity spaces, ideate innovative solutions that create and capture latent value, and iteratively test them with users.
​​​​​​
PROJECT DETAILS
CLIENT BRIEF
       :   Identify unmet needs of freelancers and design innovative solutions with business value for Citi Group
TIMELINE               
 :  16 Weeks ( Feb 2018 - May 2018 )
OUTCOMES 
         :  Solution prototype, Service Blueprint, Business Model, and Strategic roadmap
TEAM 
                    :  Four students from the Strategic Design and Management program at Parsons - Aryanna Martin,                                                      John Yohan John, Mehul Sharma, and Sundar Subramanian (myself)
MY ROLE                
: 
I was involved in all stages of the project, but primarily responsible for leading design                                                                   research and synthesis sessions, engaging with clients, facilitating co-creation workshops, and                                                   developing the service blueprint and business model
​​​​​​​​​​​​​​
FLAT TEAM HIERARCHY WITH DISTRIBUTED RESPONSIBILITIES
In the spirit of distributed ownership and inclusivity, we formed a team structure with a flat hierarchy, that allowed us to be responsible for and lead various parts of the overall project. To be nimble and have some redundancy built-in to the process, we also agreed to consult each other whenever required, and pass on the responsibility to a different person if the one who is assigned the responsibility is facing major difficulties. 
This structure also brought the best of our team's abilities while providing the opportunity for growth to each team member, allowing them to lead a phase that they had expertise in while being able to work on a skill that they would like to develop for the future.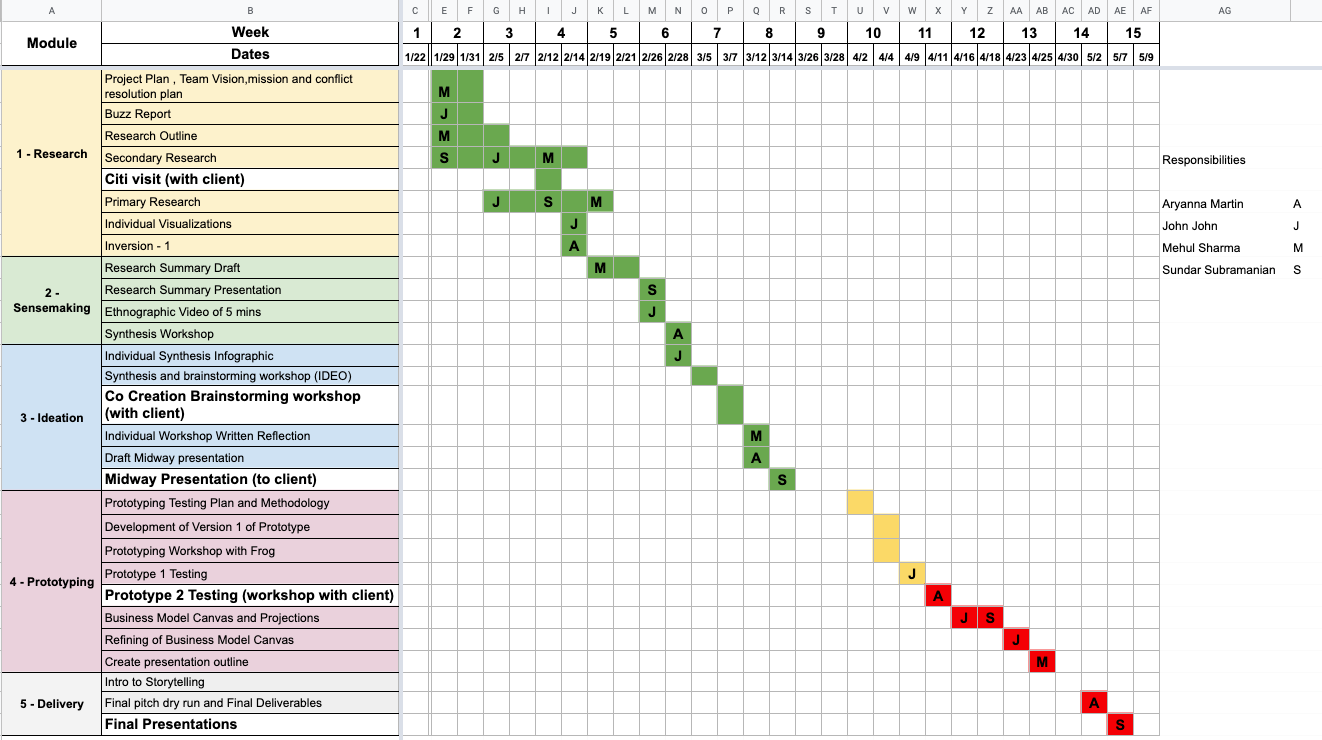 CONTINUOUS ITERATION AND CONSISTENT ALIGNMENT
In order to maximize our 16-week timeline, we adopted a more agile approach towards the Double Diamond process, by breaking down each of the diamonds into subdivisions where we continuously diverged and converged, while fostering constant alignment with our clients by engaging them in workshops, research readouts, and bi-weekly check-ins.
This lean approach helped us be more nimble and iterative in our approach, reducing the possibility of spending too much time going down the wrong path.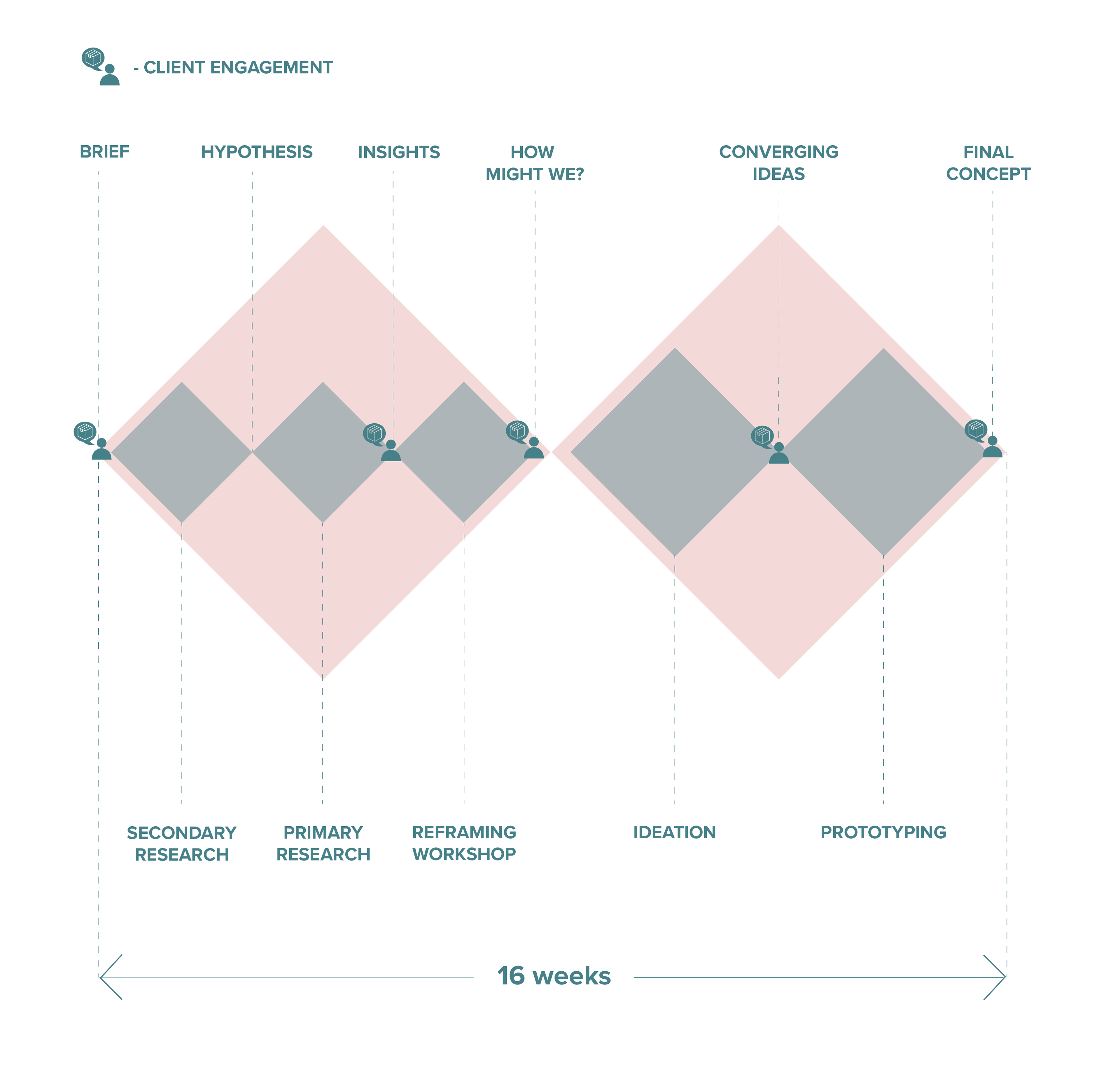 The gig economy has seen massive growth over the last decade and is now a major contributor to the US Workforce and growing fast. 
To understand this trend better, we went through research papers, news articles, and other literature on the subject. Here are some of the interesting insights and facts we unearthed through secondary research. A framework created by McKinsey that distinguished between various types of freelancers also served as an anchor going into Primary Research.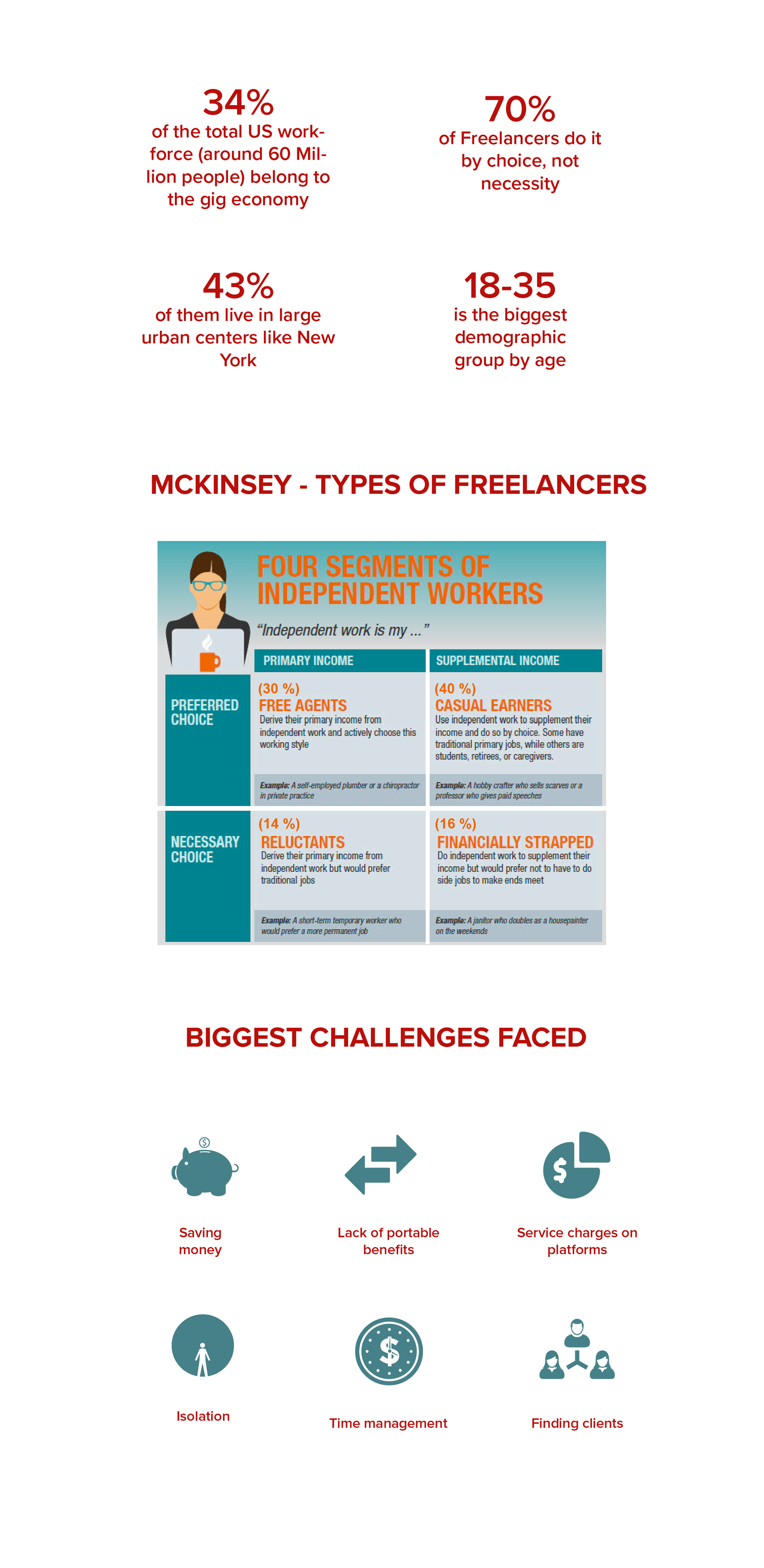 In order to unearth the most pressing problems, it was important for us to understand the point of view of multiple stakeholders in the Freelance universe. We used the method of
Ecosystem Mapping
to analyze the various interactions and inter-relations that form the bedrock of this complex system.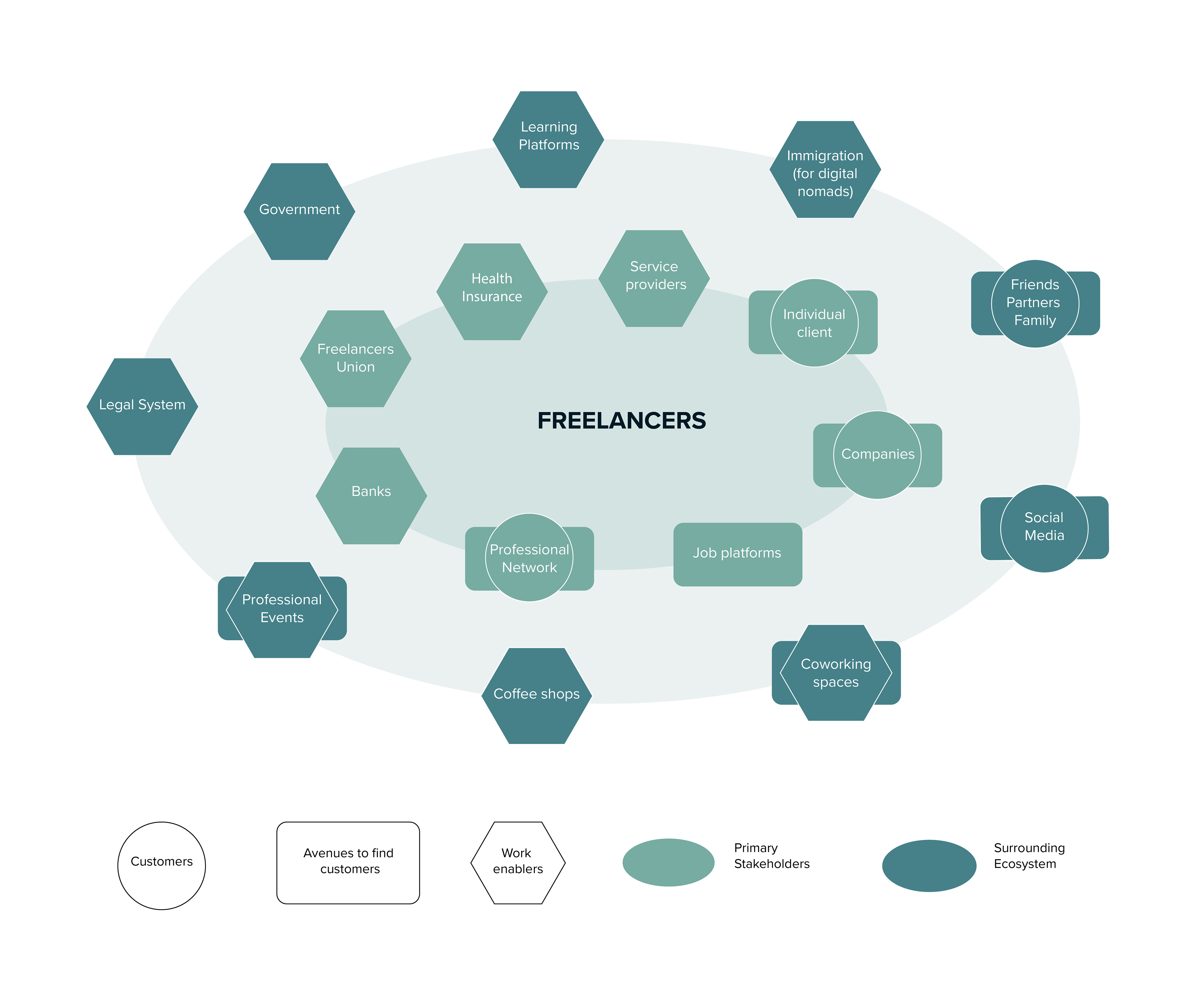 Understanding the systemic perspective helped us frame our primary research, which we accomplished through 3 research methodologies -
interviews, fly-on-the-wall observations, and surveys. 
We included a diverse mix of participants in our research, with a 60:40 (Male : Female) gender ratio, a representative age distribution ranging from 18-54, and 5 different nationalities.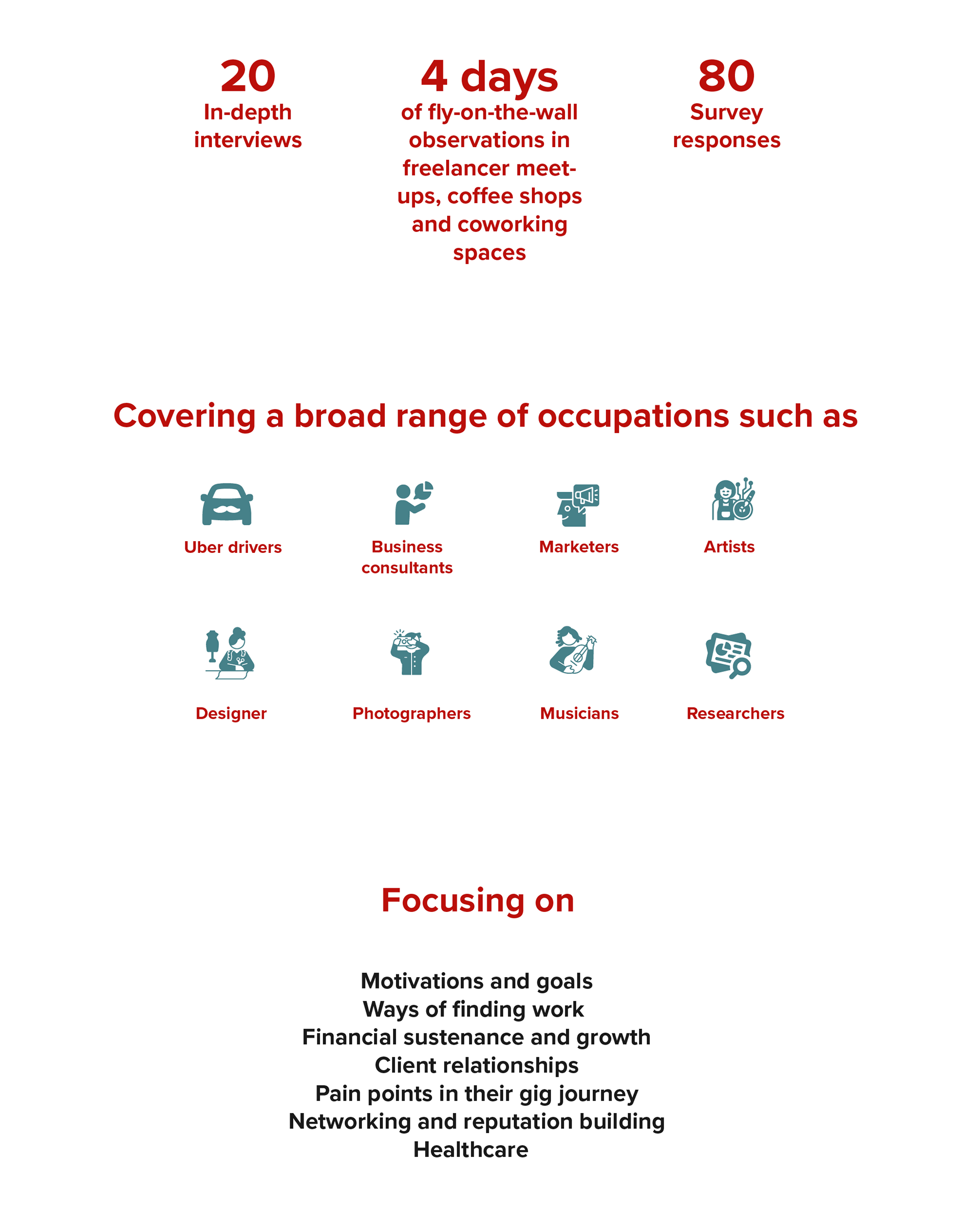 We followed the research with the synthesis process, creating personas, journey maps and analyzing the findings from research to unearth actionable insights.
6 Major insights were uncovered from the interviews, pertaining to different phases of the work cycle 
A VIDEO SUMMARY OF INSIGHTS FROM PRIMARY RESEARCH
PERSONAS WE UNCOVERED
Four key personas emerged from our primary research, with unique goals, pain points, and personal traits. We also mapped these personas back to the customer segmentation done by McKinsey to give us the percentage share of the market they make up.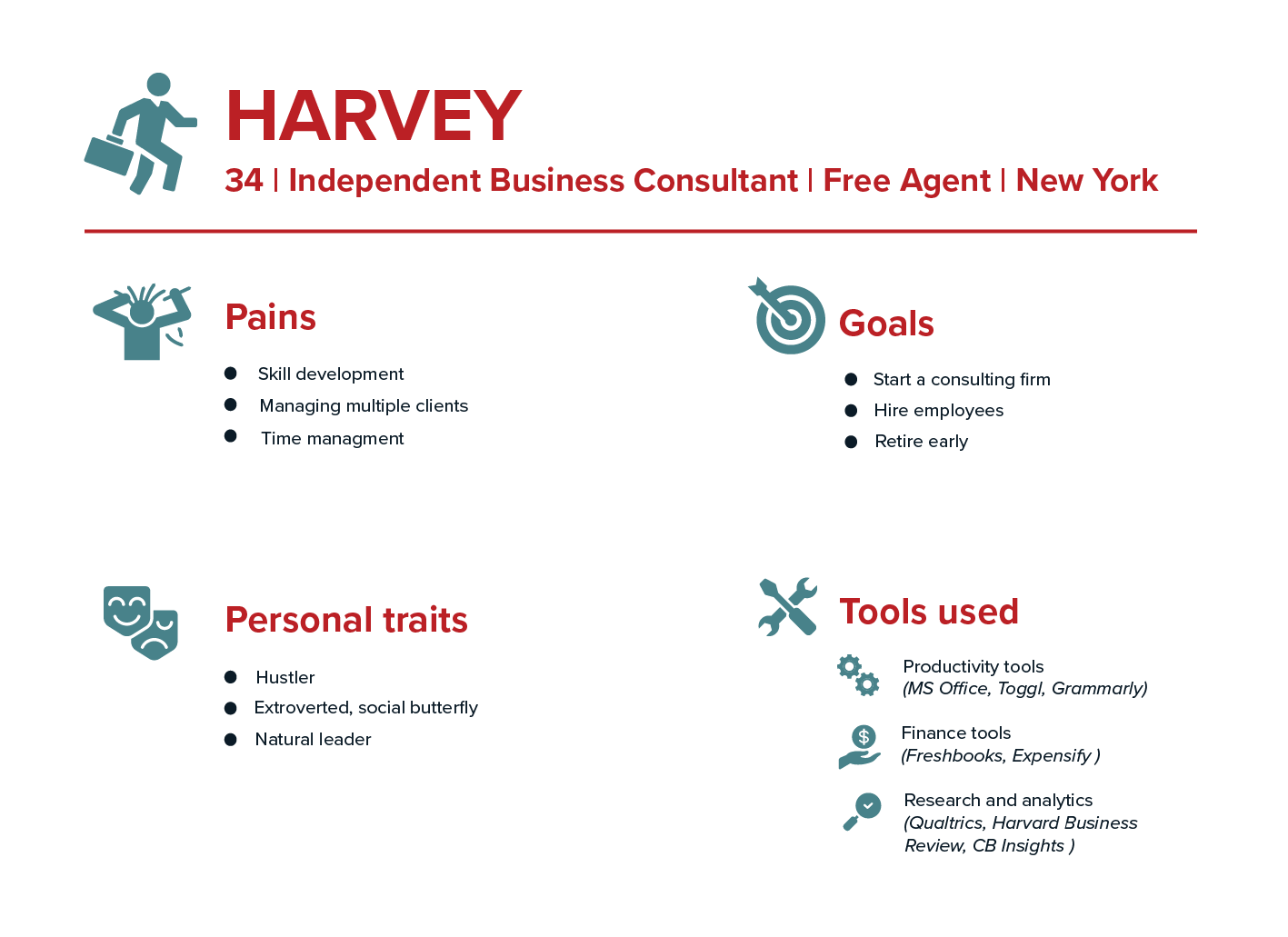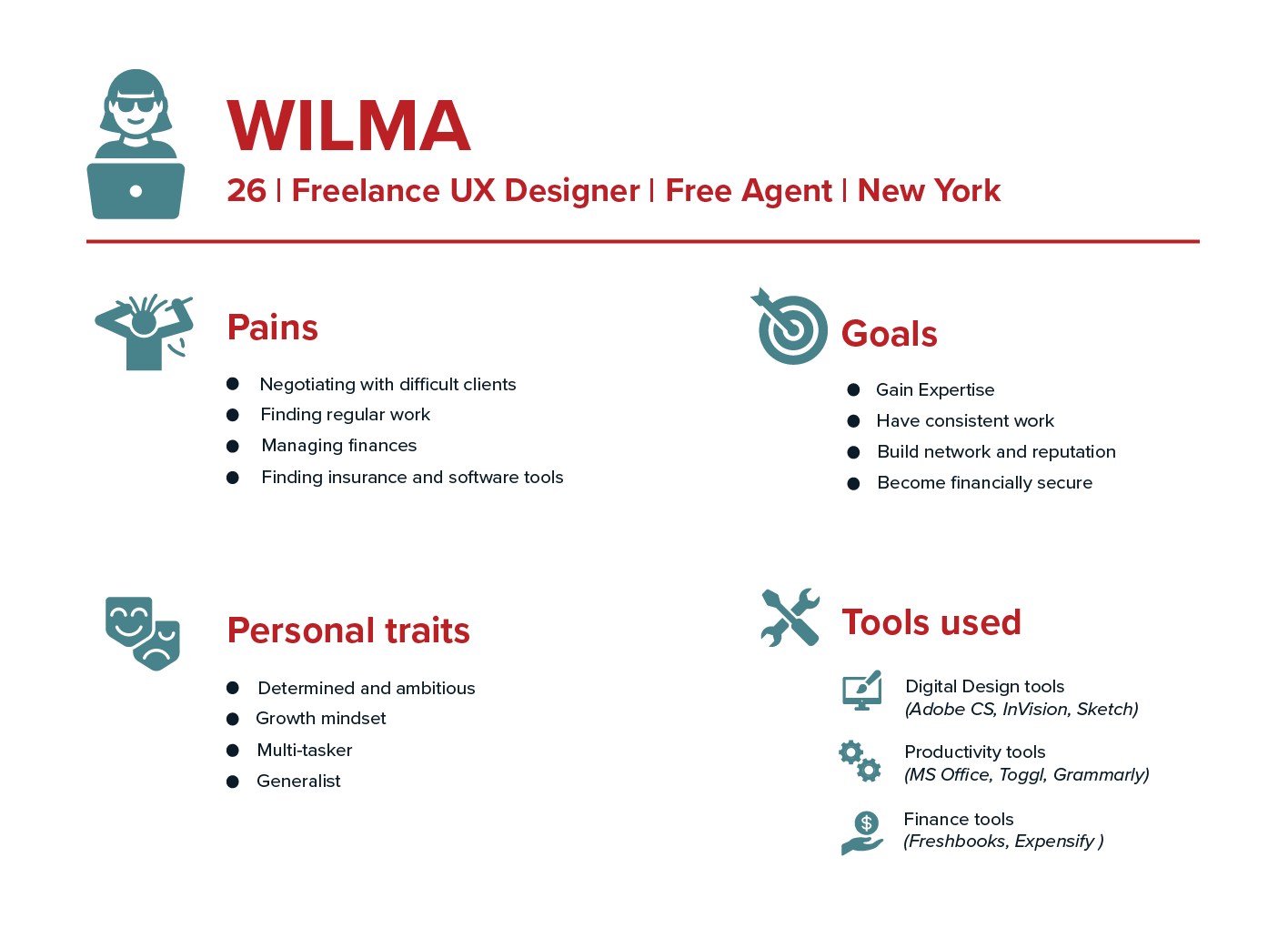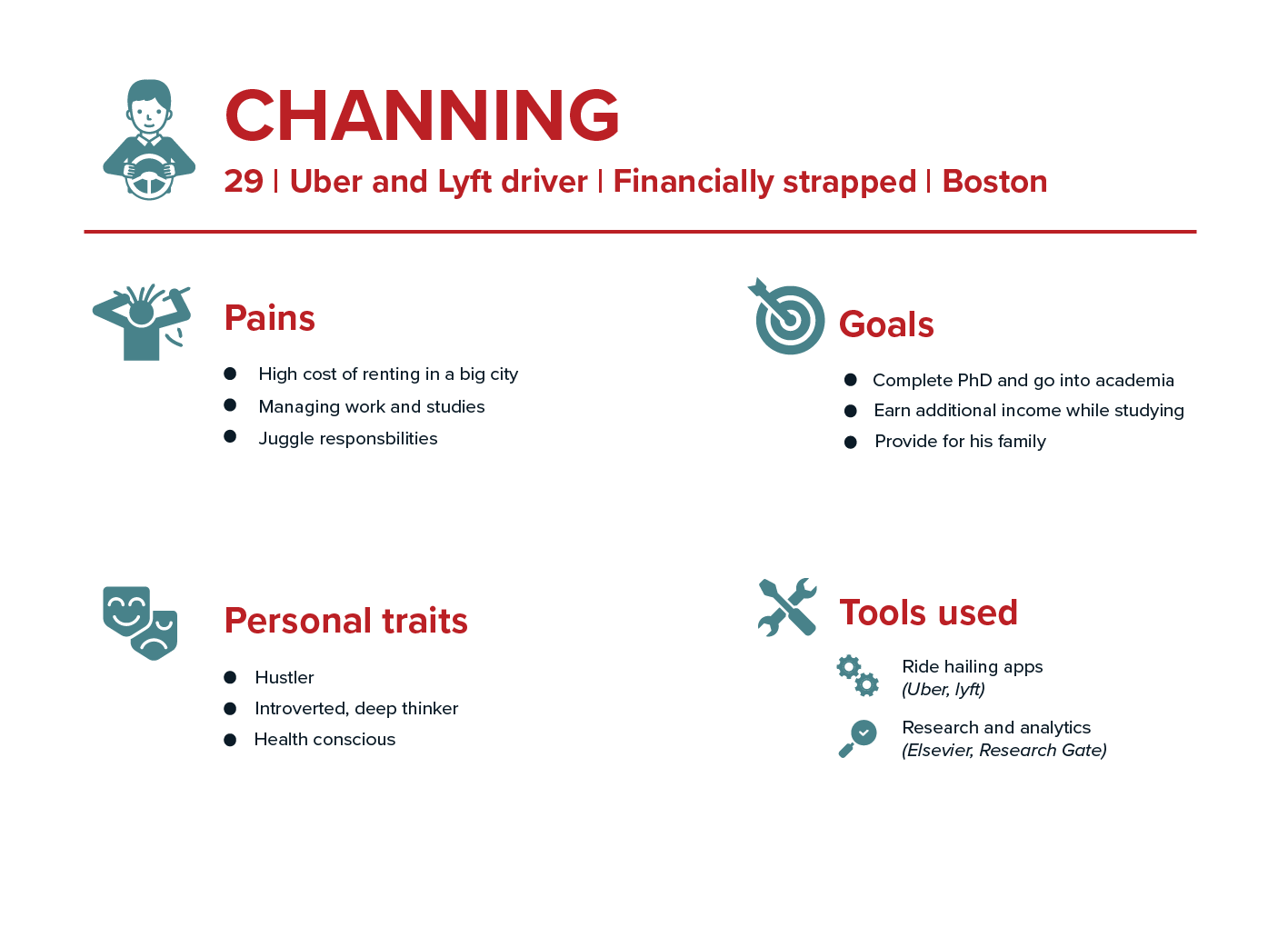 DECIDING WHAT PROBLEM TO BE SOLVED FOR?
In order to arrive at the most critical problem to be solved, we took a stab at using methods of open brainstorming to rethink and re-frame our insights.
We conducted a Role-play workshop with 7 freelancers from various industries to help us solidify and prioritize our Insights and finally arrive at How Might We statements
.
The exercise helped our team identify friction points that span across multiple stakeholders in the ecosystem.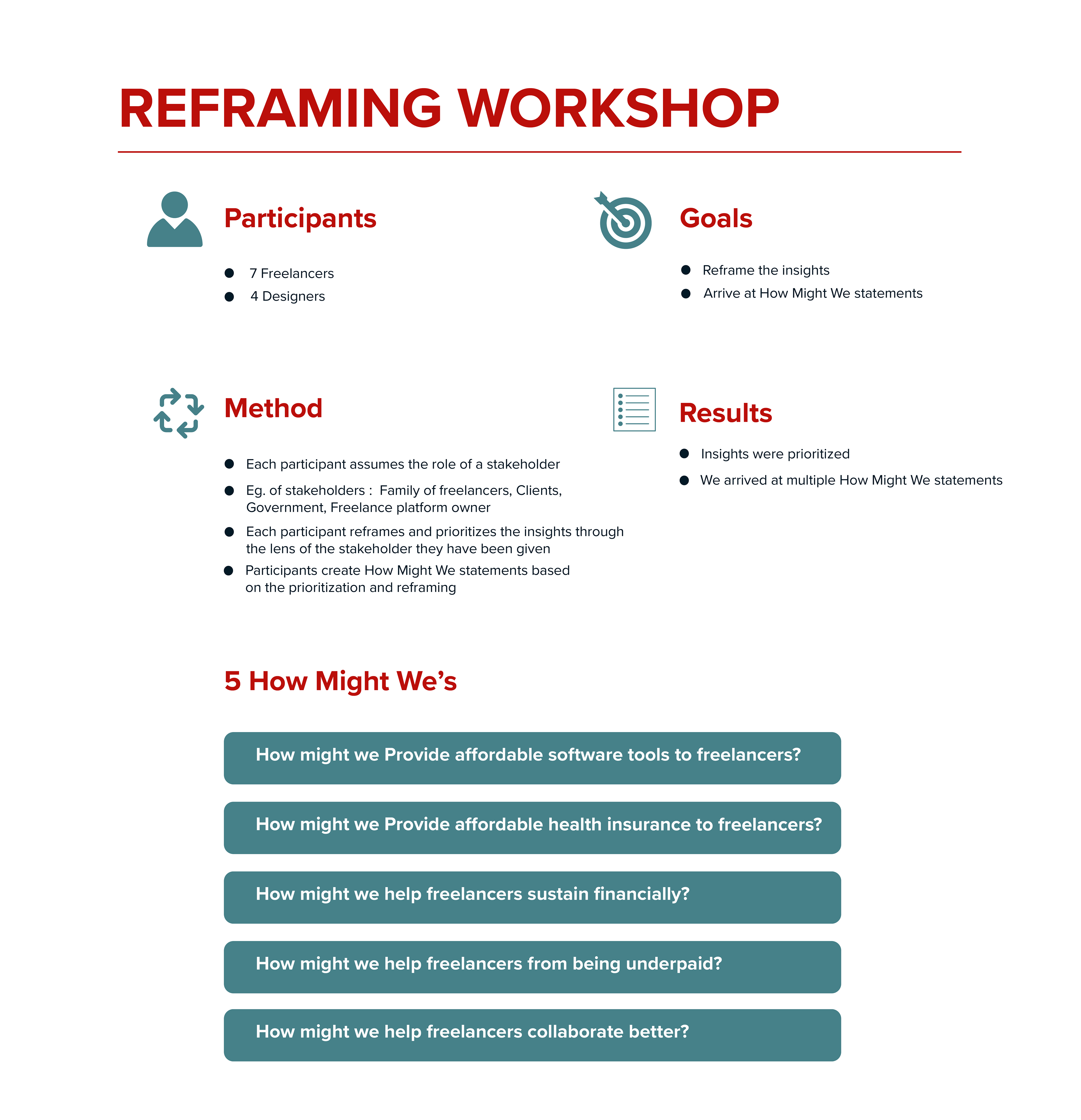 Glimpses from the workshop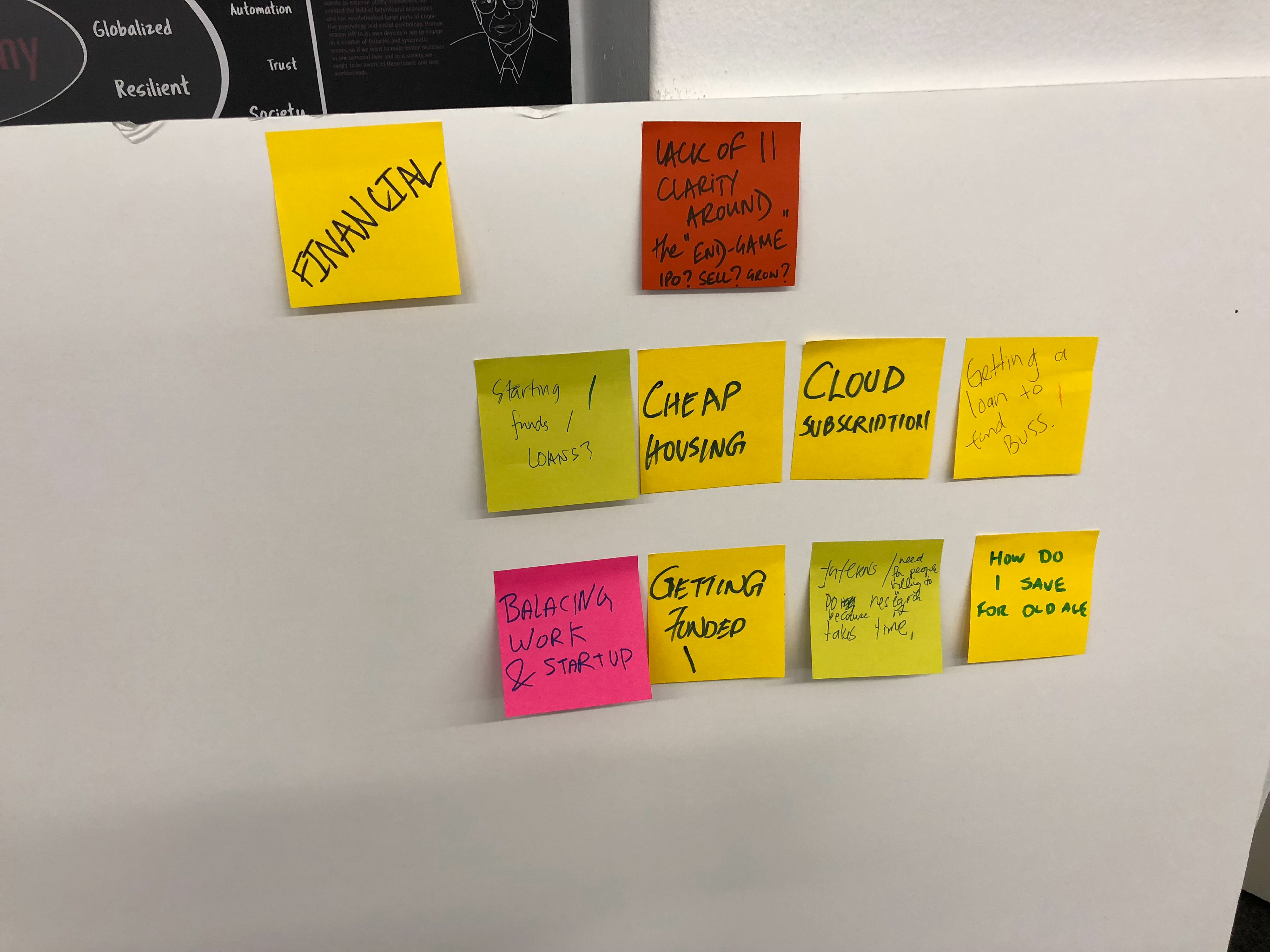 IDEATING SOLUTIONS AND GOING BOLD
The next step for us was to identify potential solutions for the 'How Might We' questions generated. We conducted multiple brainstorming sessions, within and outside the team to figure out what are the possible ideas that we could generate in order to solve some of the pain points identified. 
For the main session, we invited our clients and fellow classmates to categorize the potential solutions across two dimensions, one for customer value and the other for how innovative the idea is.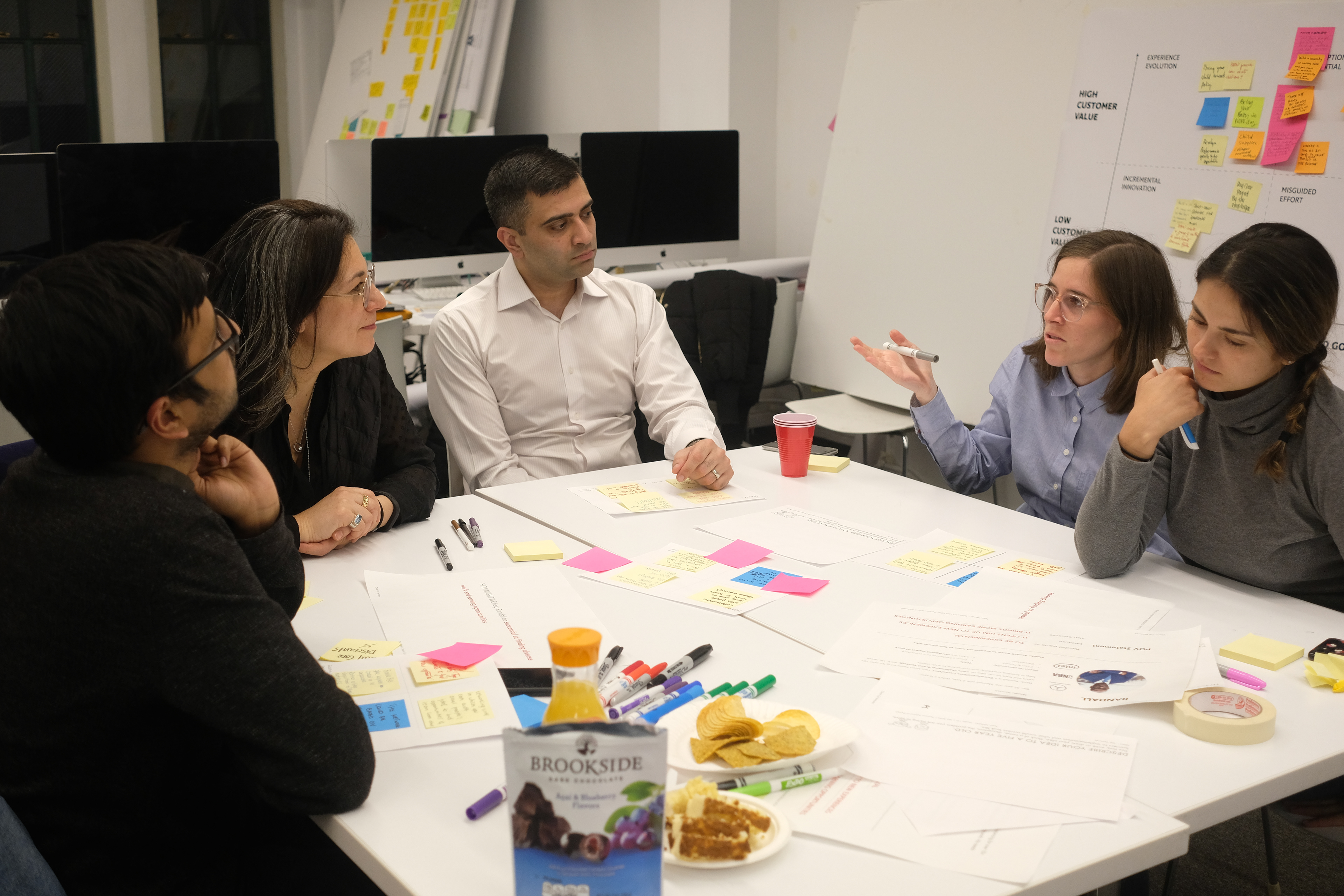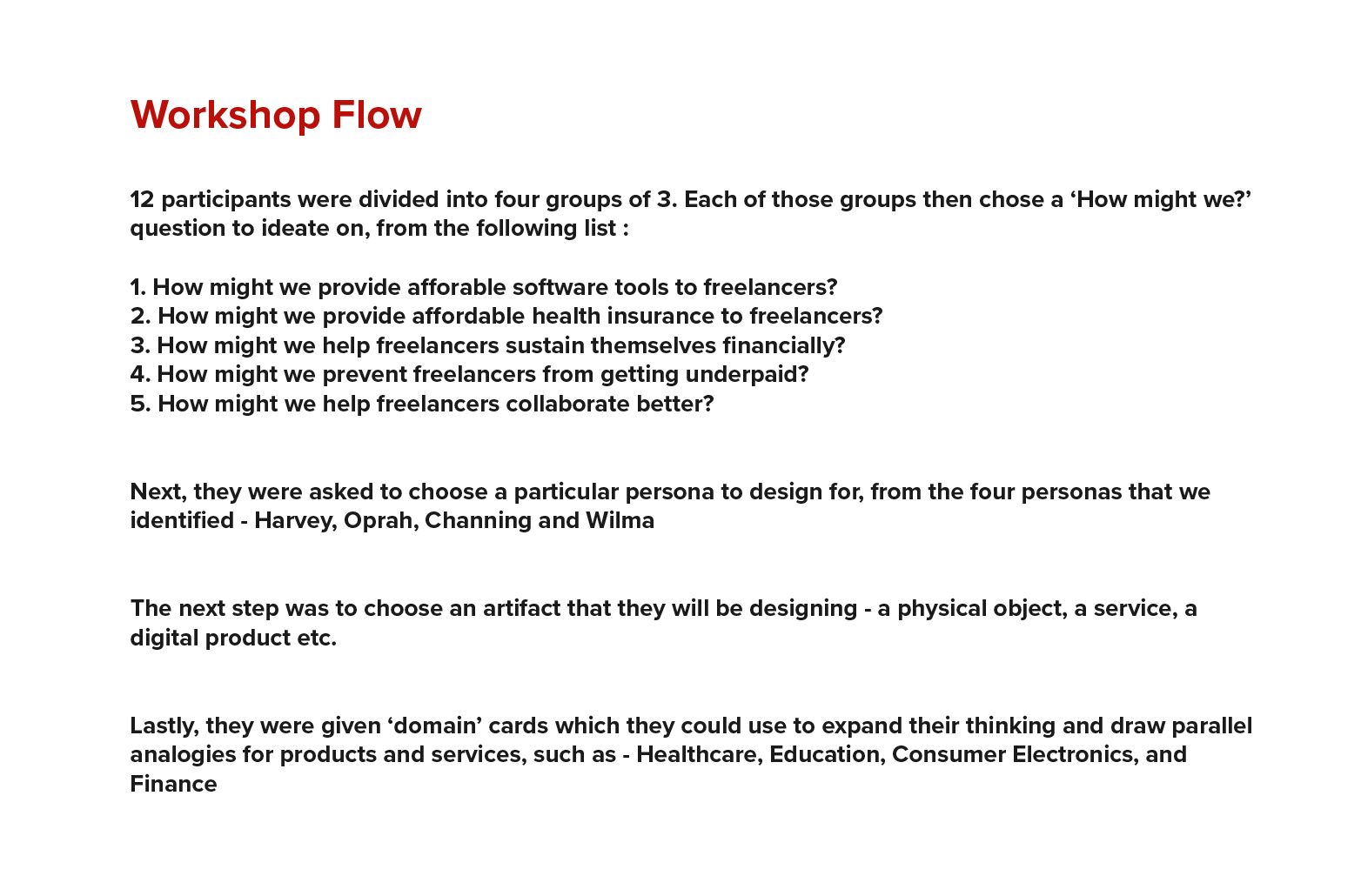 After the brainstorming workshop and mapping out the insights on a 2x2 matrix we noticed a pattern of ideas which really interested us, around
helping freelancers have cheaper access to the tools and services they need.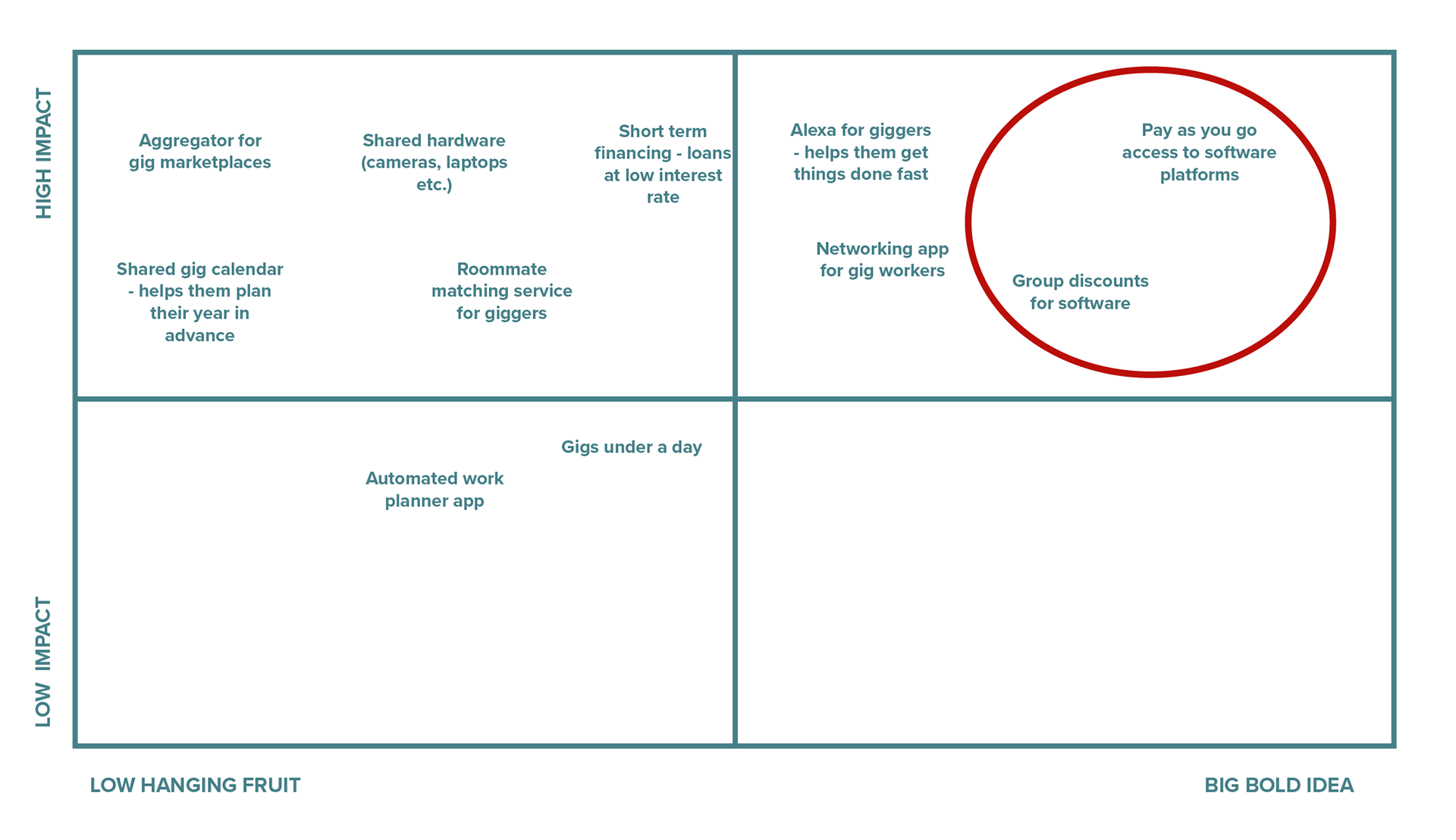 DEFINING OUR TARGET PERSONA
After deciding on the potential solution, we went back to our primary research to identify the persona that was the right fit to design for. That's when we identified the target user persona - Wilma.
Wilma is a recent graduate/postgraduate student, getting her feet wet in the freelance world. Living in a big city such as New York, her rent and other living expenses are high and she is unable to bear the additional burden of having to pay a high amount every month for software services to get her work done.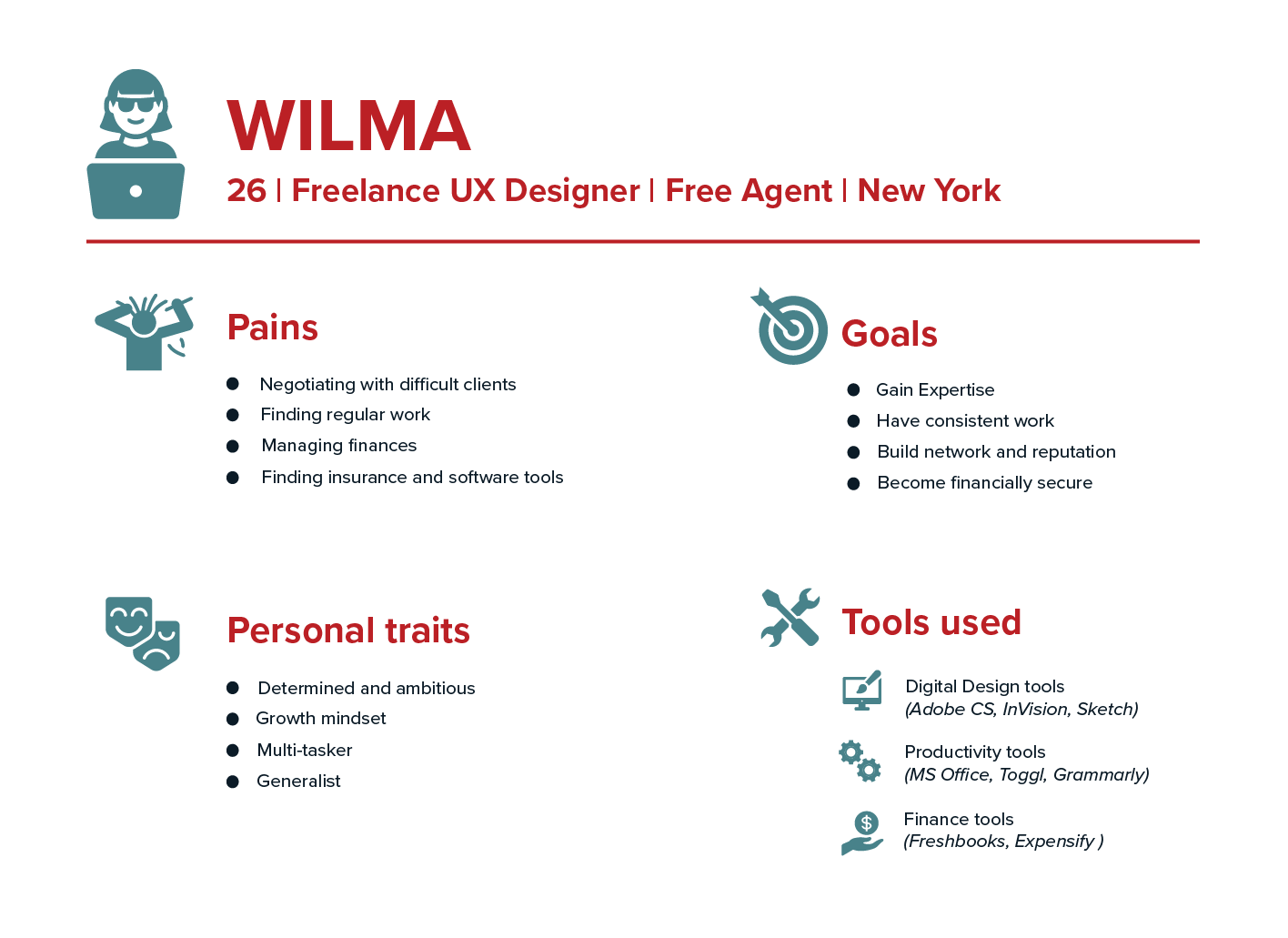 From the
Journey map
we created for Wilma, we also learned that the most distressing phase for her was when she had to manage her finances while working and especially having to pay for the various tools and software she had to use in order to get her work done.
Having arrived at an overall theme from the ideation sessions tools for helping freelancers access software tools at a low cost, we went ahead to generate 3 different concept prototypes to address it:
1. Group buying for software subscriptions
(similar to Groupon/Kickstarter)
2. Friends plan for software subscriptions
(similar to a mobile plan that is shared between friends/family)
3. Pay per use model for subscriptions
(pay for software only as per your usage, such as the electricity bill)
We started with simple paper prototypes, moving on to low fidelity wireframes later.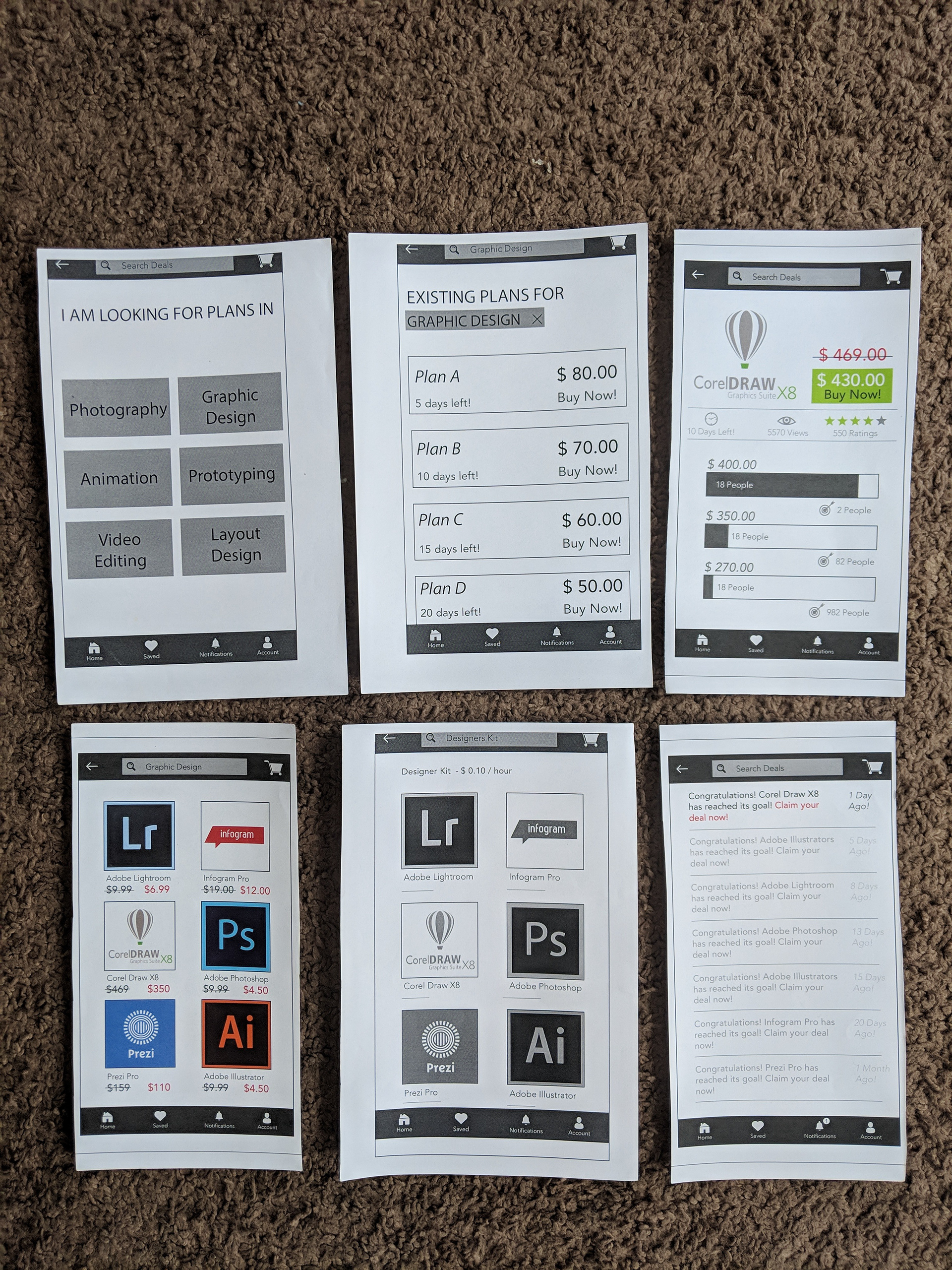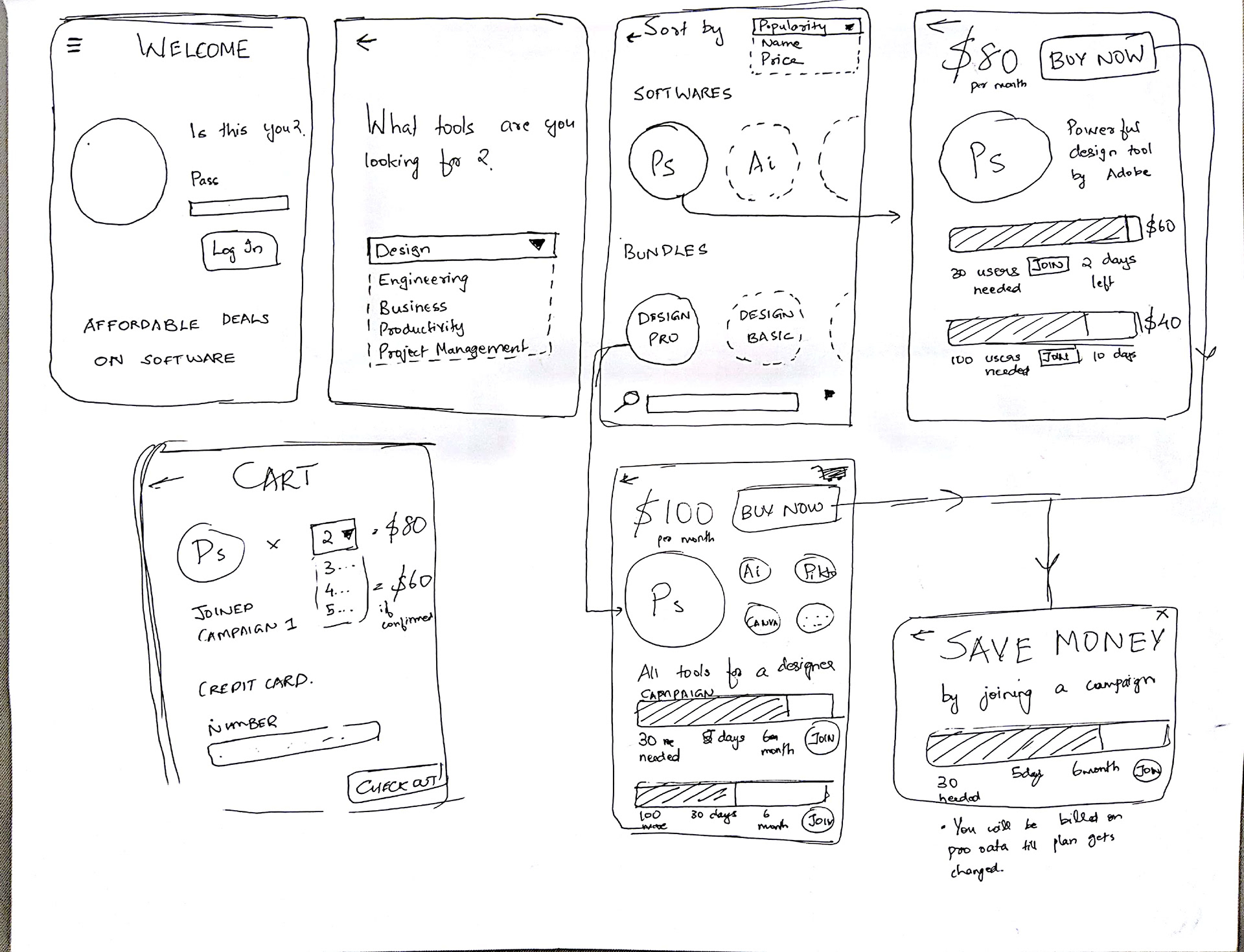 After a quick and dirty feedback session,
we developed 3 wireframes in Adobe XD to further test it with potential users
1.  
FLEX DEALS - Find and join group software deals
2. FLEX FRIENDS - Add friends to your group plan
3. FLEX PAY - Pay per use software plans 
REFINING AND TESTING THE PROTOTYPES
In order to find the concept that resonated the most with the users and the one that users perceived most value from, we used multiple methods including workshops, surveys and intercepts to validate the concepts.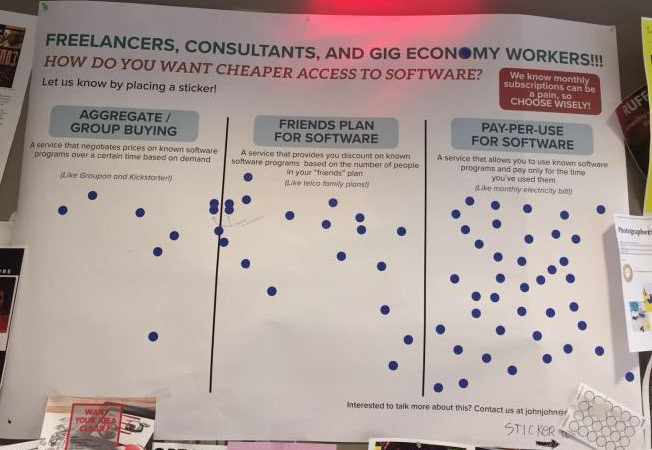 ARRIVING AT THE FINAL CONCEPT
Iteratively testing our 3 concepts through workshops, surveys and intercepts helped us arrive at the
idea which had most potential and was most desired, which was the PAY PER USE for software idea.
Testing also helped us learn more about why the other concepts would / would not work.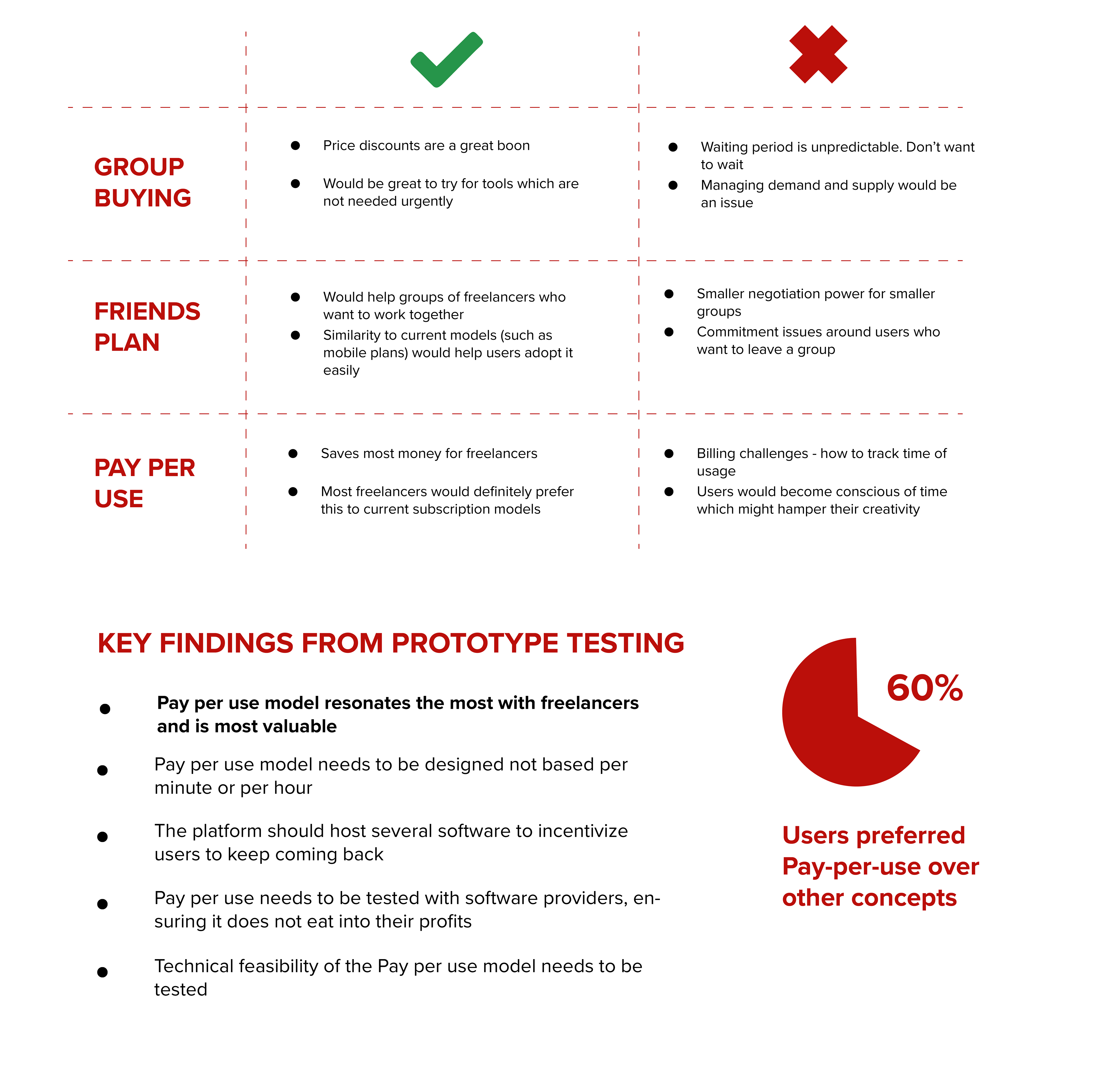 BUILDING THE FINAL CONCEPT - GLIDE
After incorporating from the learnings that we had in the prototype testing phase,
we realized that the pay-per-use model would be difficult to implement from the standpoint of software companies, since they would have to change their entire business model. 
After much brainstorming and discussion with people we know who worked in some of these companies,
we decided to move away from pay-per-use to short-term subscriptions (daily, weekly, or bi-weekly in nature).
The prototyping testing had also shown us that freelancers did not necessarily want to pay by the hour, but more so by days or weeks, since that's the window of usage that they most frequently needed these tools for. 
This led to our final solution - 'Glide', which is a software platform for short-term subscriptions, where users can explore and buy multiple subscription services and manage them
, all on an integrated platform that uses single-sign-on technology to monitor usage and help companies identify the most popular subscription models that users prefer for their software, while also serving as a launchpad for them to launch new products.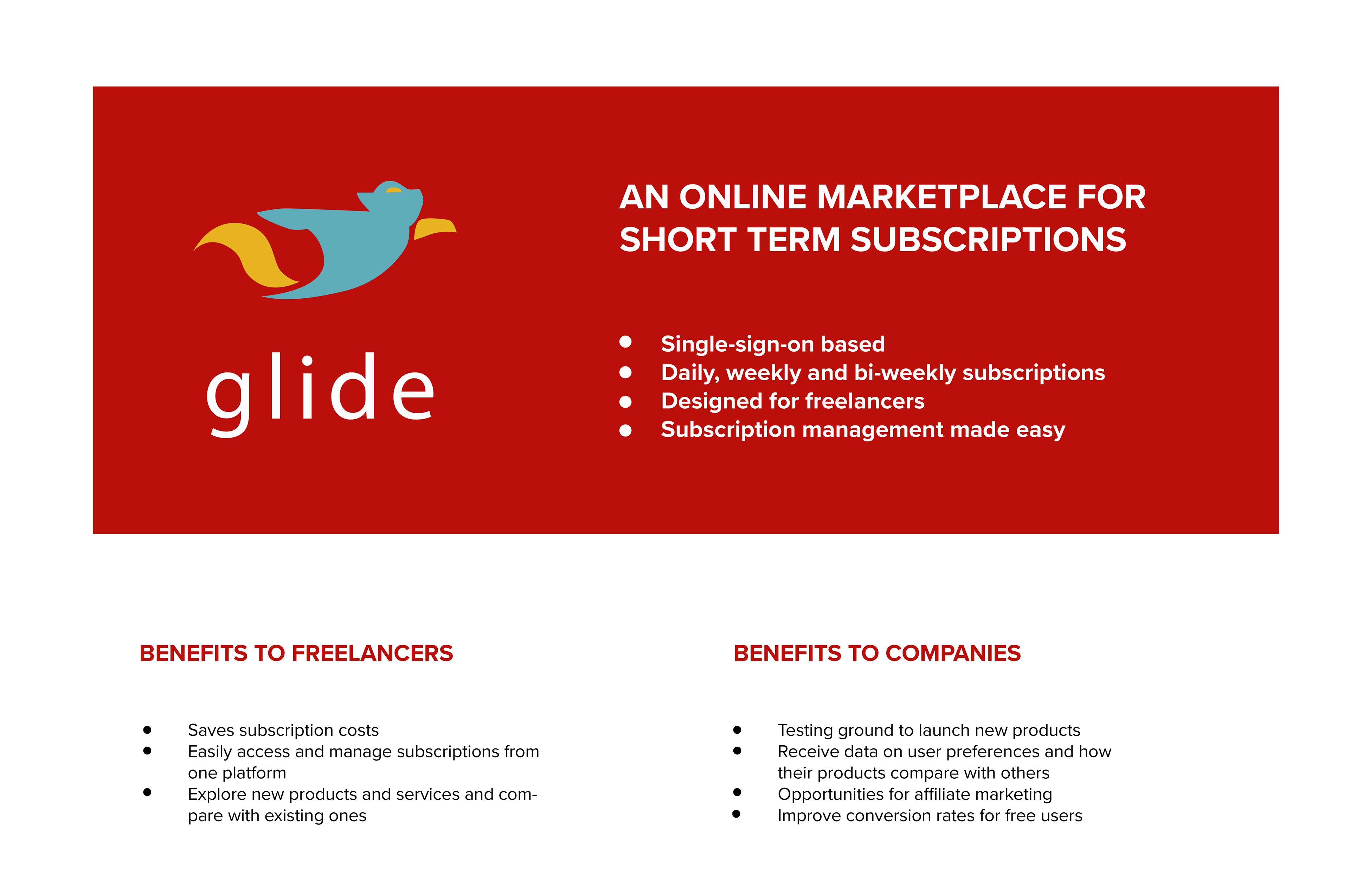 GLIDE PURCHASES MONTHLY SUBSCRIPTIONS FROM SAAS PLATFORMS AND REDISTRIBUTES THEM TO FREELANCERS AS SHORT TERM SUBSCRIPTIONS AT A HIGHER PRO RATED PRICE, THEREBY NOT DISRUPTING THE EXISTING SAAS BUSINESS MODELS WHILE OFFERING ADDITIONAL VALUE TO EXISTING AND NEW USERS.
​​​​​​​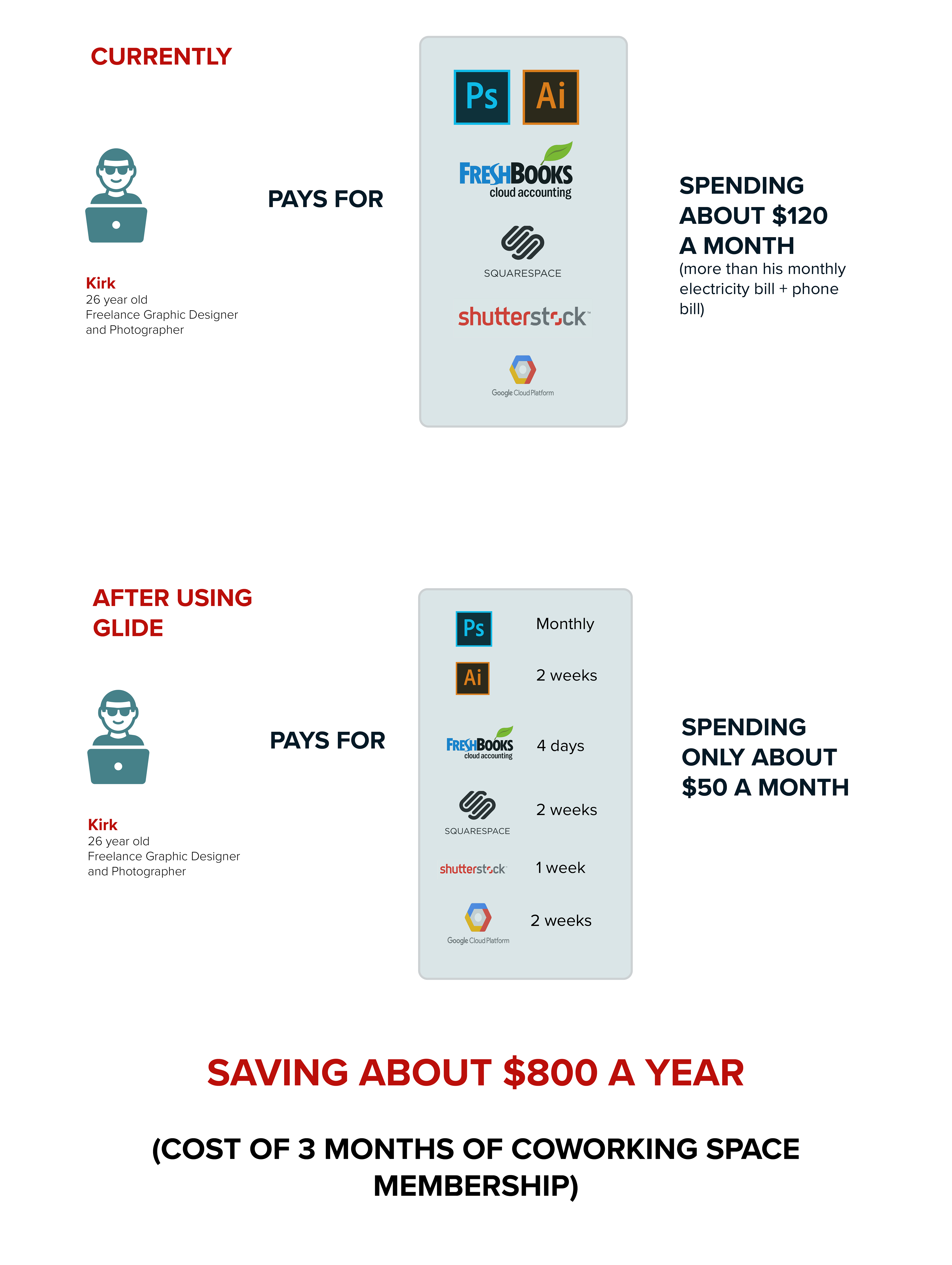 GLIDE CAN CREATE SYSTEMIC VALUE ACROSS A WIDE RANGE OF STAKEHOLDERS, EXTENDING TO CLIENTS OF FREELANCERS, AND OUR OWN CLIENT (CITI VENTURES). HERE IS MAP OF HOW THE VALUE FLOWS BETWEEN THEM WITH THE EXISTENCE OF GLIDE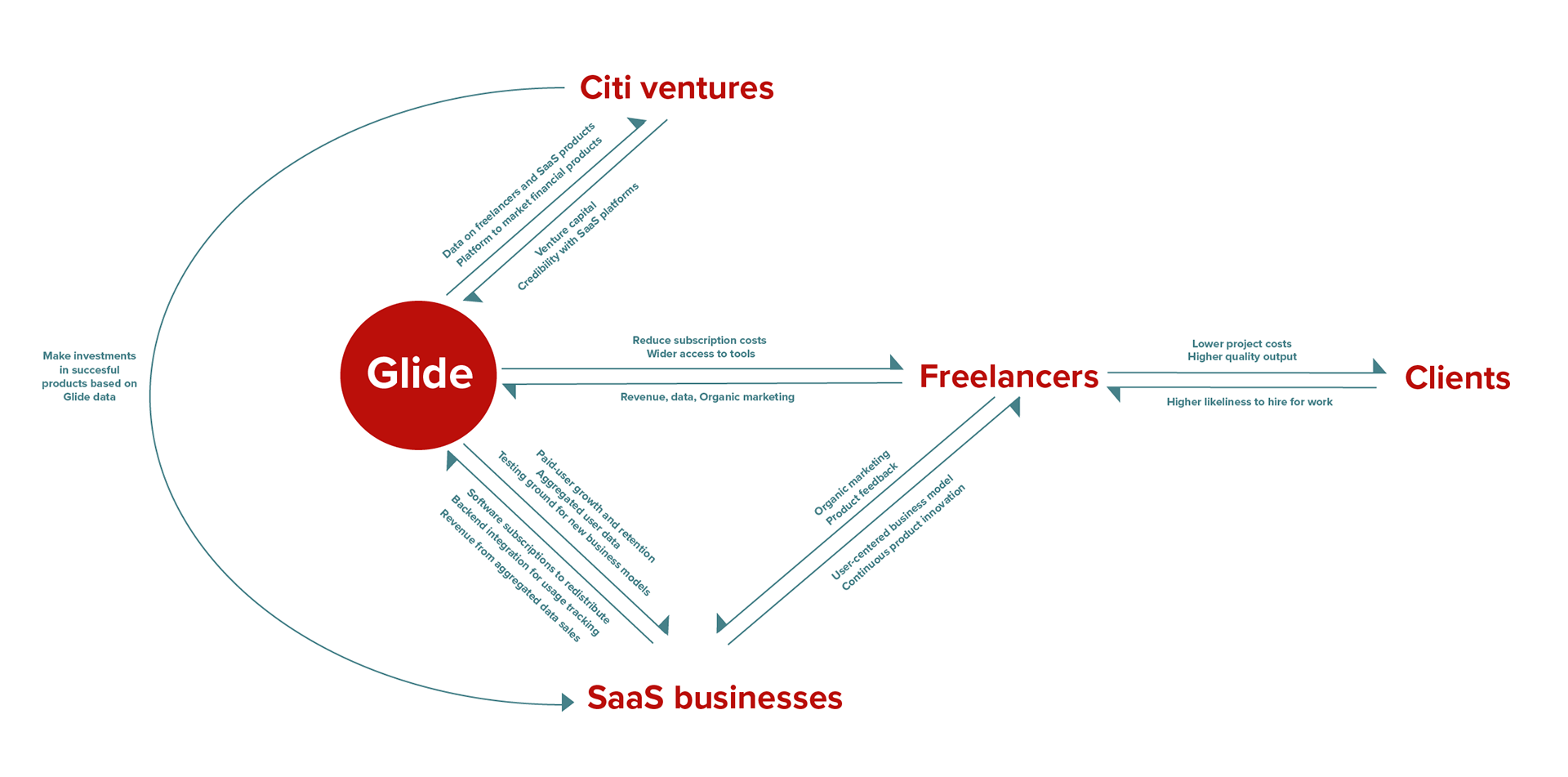 GLIDE INTEGRATES THE FEATURES OF POPULAR SUBSCRIPTION MANAGEMENT PLATFORMS, PRODUCT COMPARISON WEBSITES AND ONLINE MARKETPLACES FOR BUYING SUBSCRIPTIONS, AND PACKAGES THEM TOGETHER IN A WAY THAT BEST SERVES OUR TARGET SEGMENT - THE  FREELANCERS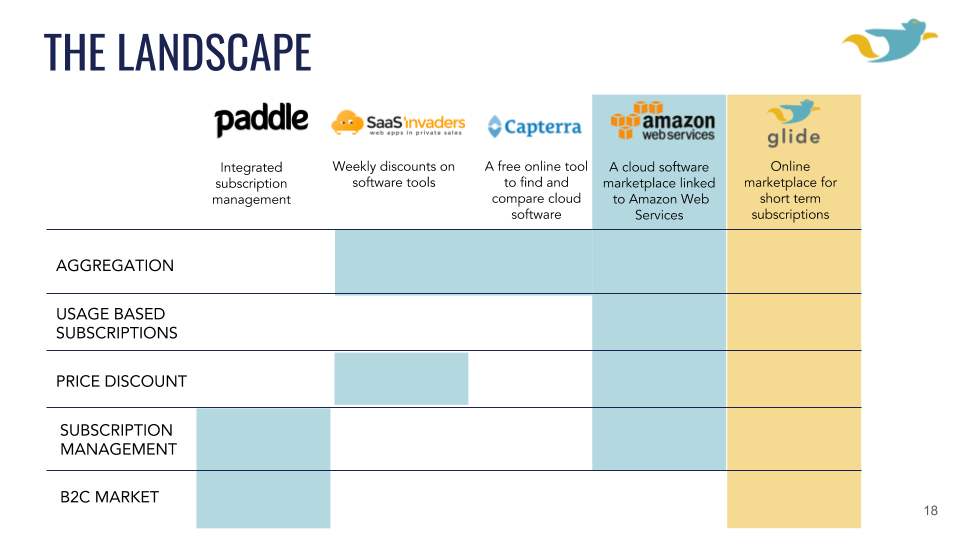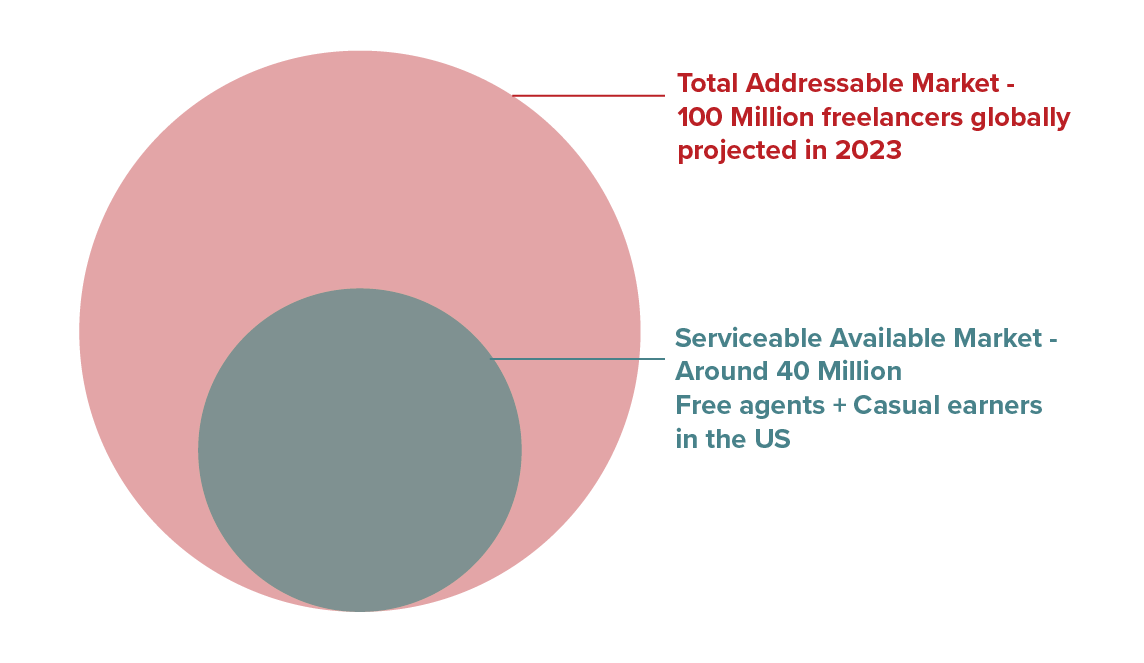 Creating a user flow helped us map the different features that we want to incorporate along with a logical flow, while also generating the overall User Experience that we want to create in the service. Click on the image to see the full map in Lucidchart.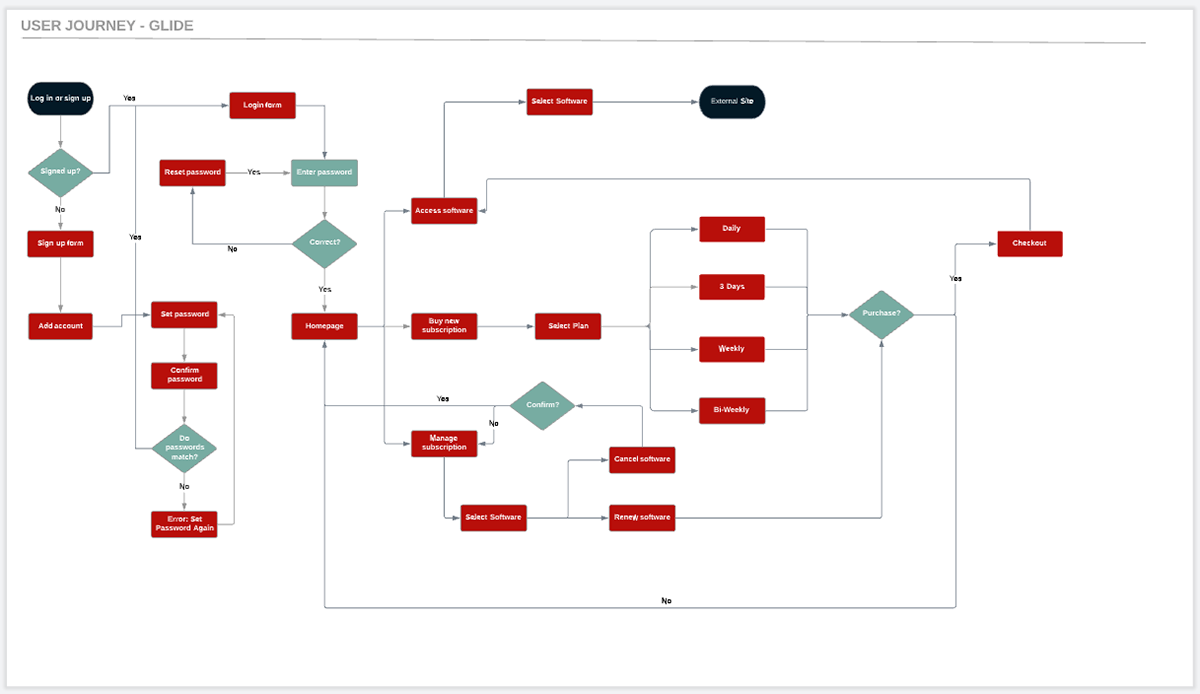 SERVICE BLUEPRINT
The
SERVICE BLUEPRINT
helped us create a comprehensive view of the operational aspects of the service, both from the perspective of the customer and those who will be building the service. This tool also helped identify what are the key capabilities and technology that would be needed to fulfill and excite the customer at each stage of the journey.

WEB PROTOTYPE
This interactive web prototype shows a simple workflow where the user wants to purchase a new short-term subscription through Glide.
BUSINESS MODEL CANVAS
The Business Model canvas helped us structure our solution to a viable model than can be implemented in the market.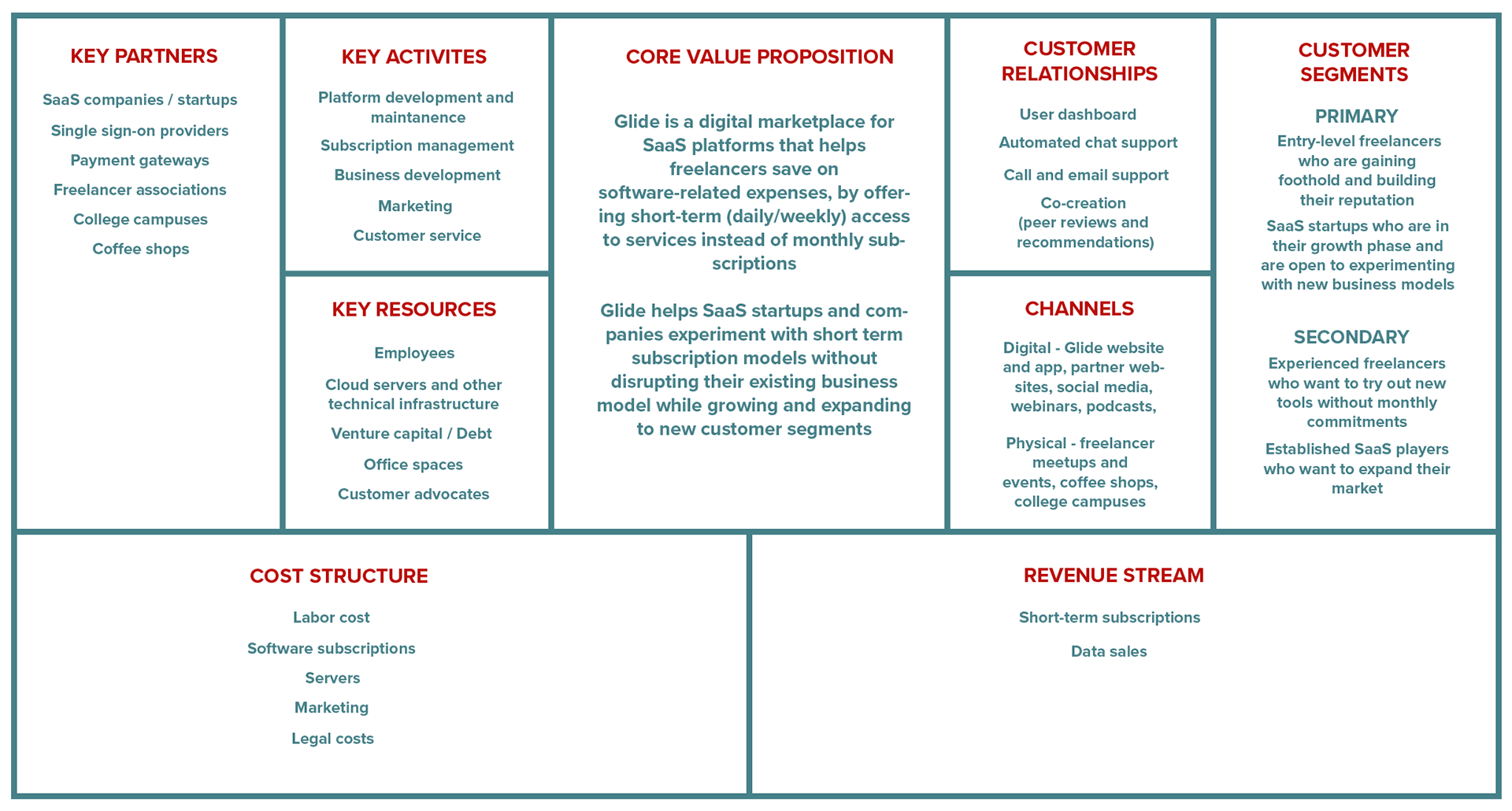 According to our financial projections, Glide would break-even by month 24 and would make $800 K in profits in it's second year of operations, owing to the viral growth once the platform takes off. Click on the images below to see the full financial projections sheet.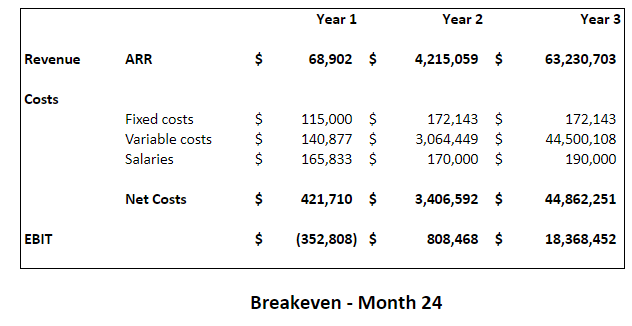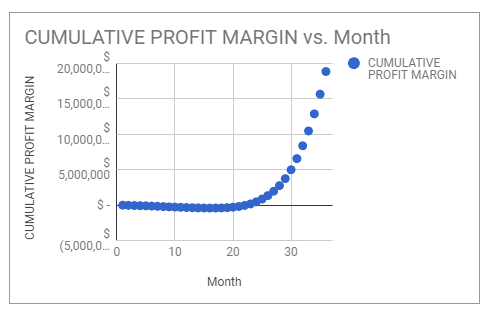 We decided to target the creative freelance communities in major cities such as New York City, San Francisco, Seattle and Los Angeles as our target users for early testing, due to easy access, severe pain points around cost of living and their overall willingness to try new tech services.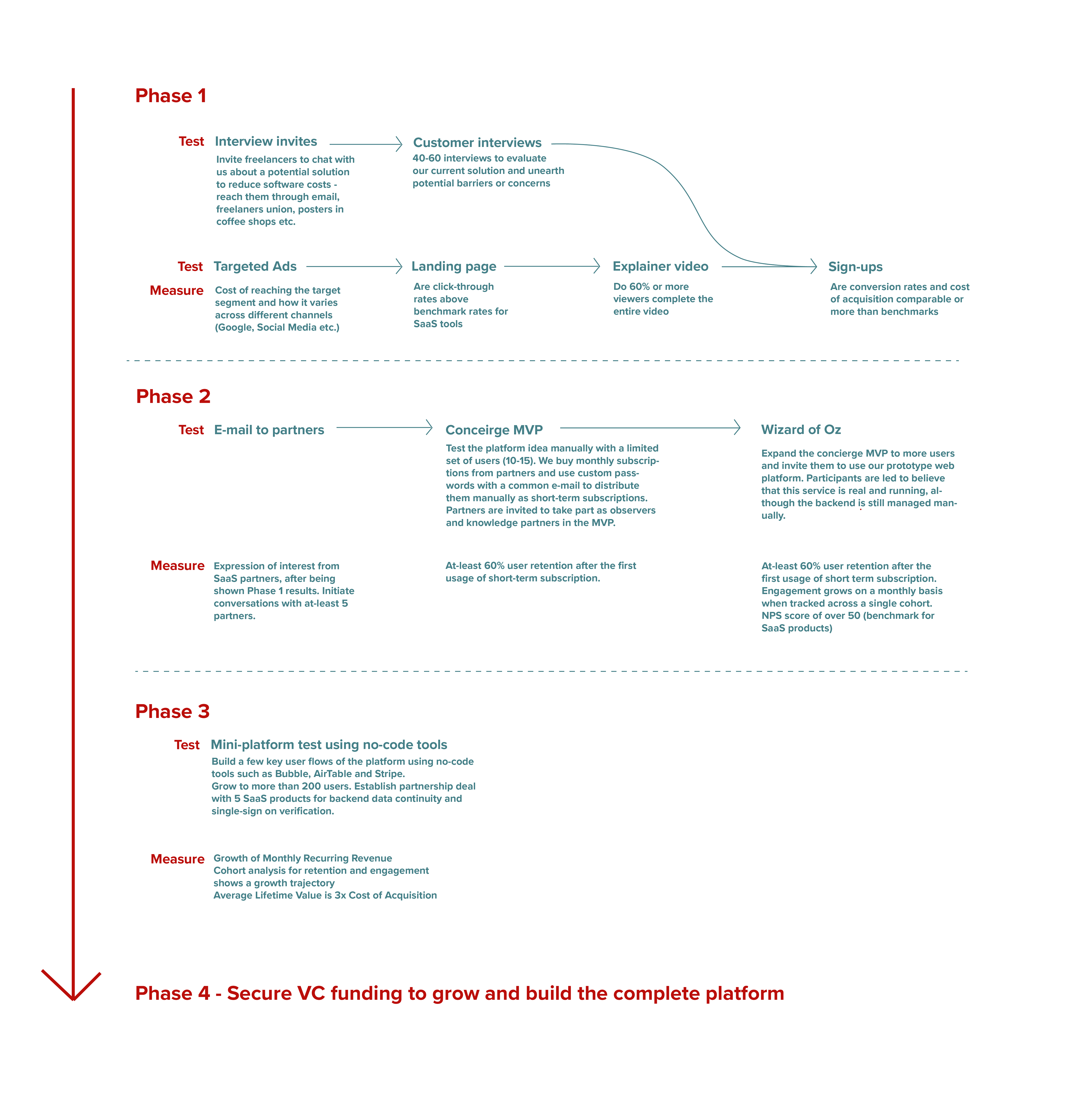 Our future strategy is aimed at making software services extremely accessible on-demand, like electricity. 
With the expected rise in the number of independent workers, more users will turn to using glide than to individually access the different software. And the data we would be collecting from them will help us build our own proprietary software which run solely on micro-subscriptions.
Eventually, we expect the movement towards short-term subscriptions and pay-per use models to shift the way that SaaS companies operate, and the emergence of a new market of on-demand software tools that are accessible whenever you need them without any commitment. Accessing software would be like using electricity. Use as much as you want and pay at the end of the month.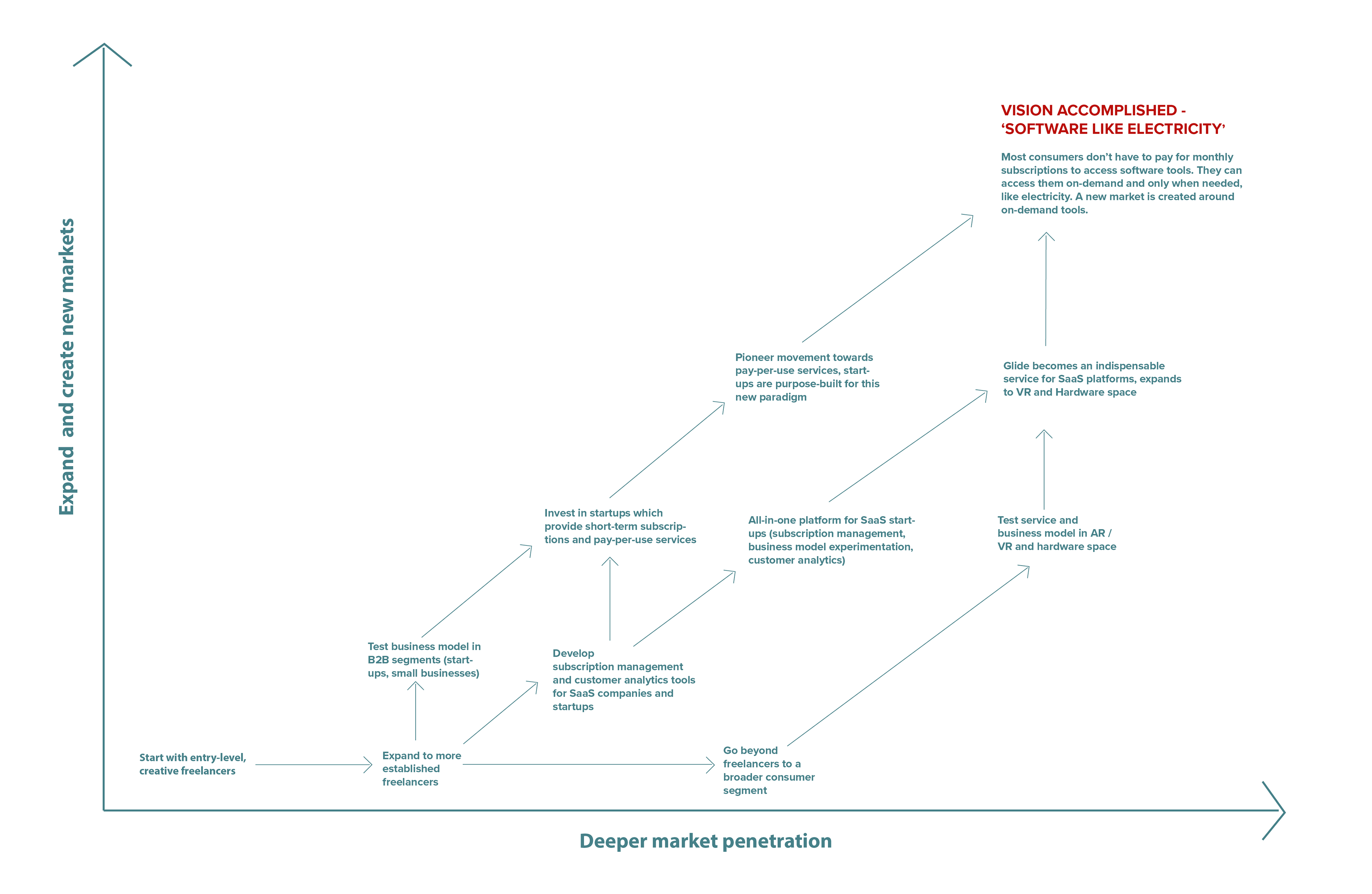 FEEDBACK FROM THE INDUSTRY
Both our clients and other stakeholders from the SaaS industry that we reached out to had a lot of positive things to say about glide, and some of them are here below.
​​​​​​​
"It's a great idea. I would totally use this instead of having to pay for all the software separately" 
 - Valla Vakili , Head of Ventures Studio at Citi Ventures
"If the freelance market grows, we might have to re look our strategy. This might be the way ahead for us in the future" 
- Senior Adoption Program Manager for Adobe
"I see a lot of potential in aggregation. Companies would be interested in knowing or comparing their products with others through this platform" 
 - Former CTO of a leading Design SaaS firm
"Our conversion rates are pretty low. This could improve our conversion rates"
- Customer Success Manager for Canva
1. PAN-CULTURAL RESEARCH
: Gaining an international / cross-cultural perspective on a topic through secondary and primary research helped us identify user needs and pain points that are context-independent, and thereby have tremendous potential for scalability
2. SYSTEMIC PROBLEM FRAMING 
: One of the key moments in our project happened when we conducted the problem reframing exercise where we tried to evaluate needs and pain points from the perspective of multiple stakeholders in the ecosystem. This helped us understand why alleviating some of the financial pain-points could not only help the freelancers, but also clients and others who are dependent on them, such as their family. 
3. QUESTIONING FUNDAMENTALS
: During ideation, what helped us identify the whitespace for short-term subscriptions was a fundamental questioning of the assumptions behind SaaS tools, and monthly subscriptions being the norm. 
4. DIVERSITY OF THE TEAM AND CO-LEADERSHIP
: One of the biggest takeaways for me from this project was the importance of having a diverse team with varying backgrounds, skillsets and outlook towards problem solving. This not only impacted the overall quality of work, but also made the process very engaging and joyful. We learned a lot from each other over the 16-week period. Distributing roles and responsibilities throughout the process also helped each of us bring our unique strengths to the table and grow in our individual areas of interest.